November 13, 2015: No Quick Fix in Credit Repair Scam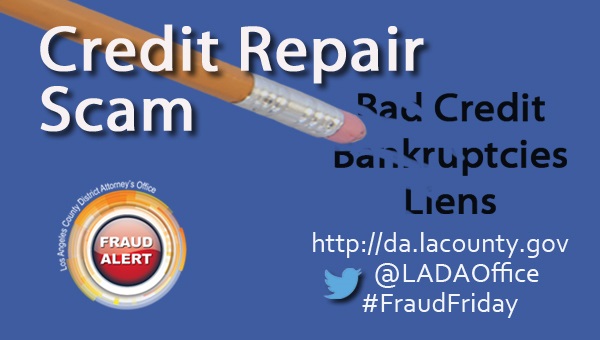 Thieves are preying upon consumers when they need help the most by claiming to fix their bad credit.
In the credit repair scam, con artists claim they can erase bad credit, remove bankruptcies or liens and even create a new credit history. The thieves usually ask for an upfront payment in cash.
Legitimate credit repair companies are required to provide a person's legal rights in a written contract, give a three-day window to cancel without any charge and provide the cost of the services.
TIPS:
Check your credit history and dispute inaccurate information
Do not pay for services before they are rendered
Obtain legitimate credit counseling from a nonprofit credit repair agency or your bank or credit union
For more information, you may contact the Fair Trade Commission at www.fraud.org and the Consumer Financial Protection Bureau at www.consumerfinance.gov.
Follow @LADAOffice on Twitter for up-to-date news and use #FraudFriday.