September 6, 2022: Trio Charged With Series of Daytime Robberies, Including 99 Ranch Market Assault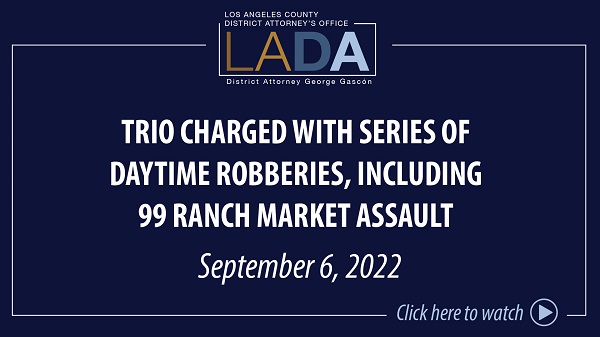 District Attorney George Gascón announced that three men have been charged for a series of daytime robberies over the past five months, including the pistol whipping of an older shopper in the 99 Ranch Market parking lot in Rowland Heights.
"These brazen crimes – all of which occurred during the day – are deeply troubling. The victims had their sense of safety shattered," District Attorney Gascón said. "The majority of the people victimized were from the Asian American Community and I know that this has caused significant community trauma. I hope that all of those who have been impacted by this spree of violence sleep better tonight knowing that those who caused harm will be held accountable."
Click here to watch the news conference.