August 14, 2015: Keep a Sharp Eye Out For ATM Fraud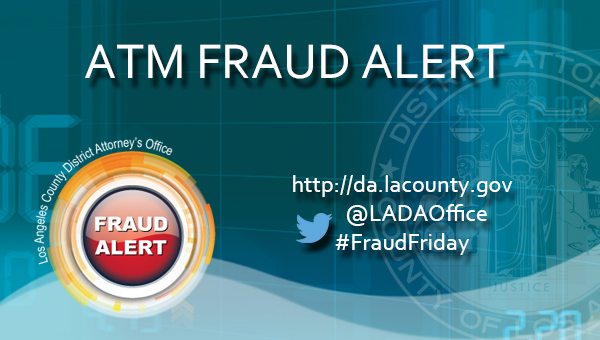 ATM cameras are typically used to catch criminals using a stolen card, but thieves have found ways to shoot their own video to steal cash.
Bluetooth pinhole cameras, which are less than one inch in length and width, are perched above an ATM keypad to record PIN numbers. The wireless technology allows for remote capture of the video feed.
Thieves also employ a skimmer that is placed in fake ATM card readers and reads the card's magnetic stripe information. With the data and the PIN number, crooks can make counterfeit cards, sell the valuable information or go shop online.
TIPS:
Look at the card reader to see if there is anything novel or different. Most newer ATMs have a flashing card slot light
Monitor your bank account daily and review all written monthly statements.
Do not allow anyone to assist or shoulder surf you at the ATM.
Use ATMs located inside a bank branch.
If you or someone you know has been the victim of a scam, please contact the Los Angeles County Department of Consumer and Business Affairs at (800) 593-8222 or visit http://dcba.lacounty.gov.
Prosecutor Maria Ramirez warns about the scam in this video: http://vimeo.com/135612888.
Follow @LADAOffice on Twitter for up-to-date news and use the hashtag #FraudFriday.