September 16, 2015: District Attorney Lacey Tosses First Pitch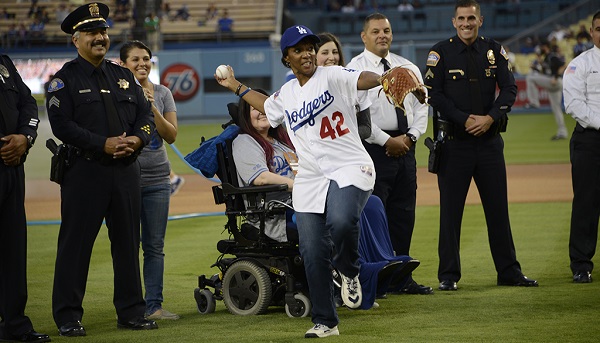 District Attorney Jackie Lacey throws the ceremonial first pitch during Law Enforcement Appreciation Night at Dodger Stadium on Sept. 15.
That's a strike!
District Attorney Jackie Lacey threw out the ceremonial first pitch at Dodger Stadium Sept. 15 as part of Law Enforcement Appreciation Night.
District Attorney Lacey, wearing number 42, delivered it right down the middle to her catcher Gina Satriano, director of the Bureau of Central Operations and a former professional baseball player. Sharing the first pitch honors was Los Angeles City Attorney Mike Feuer.
Also during the pregame ceremonies, the District Attorney Honor Guard was on hand for the Presentation of Colors.
In attendance were roughly 670 LADA employees, family members and friends to cheer on the DA and the Dodgers, who unfortunately fell to the Colorado Rockies in 16 innings.
The event was cosponsored by the Los Angeles County District Attorney Investigators' Association, the Association of Deputy District Attorneys and the Service Employees International Union.