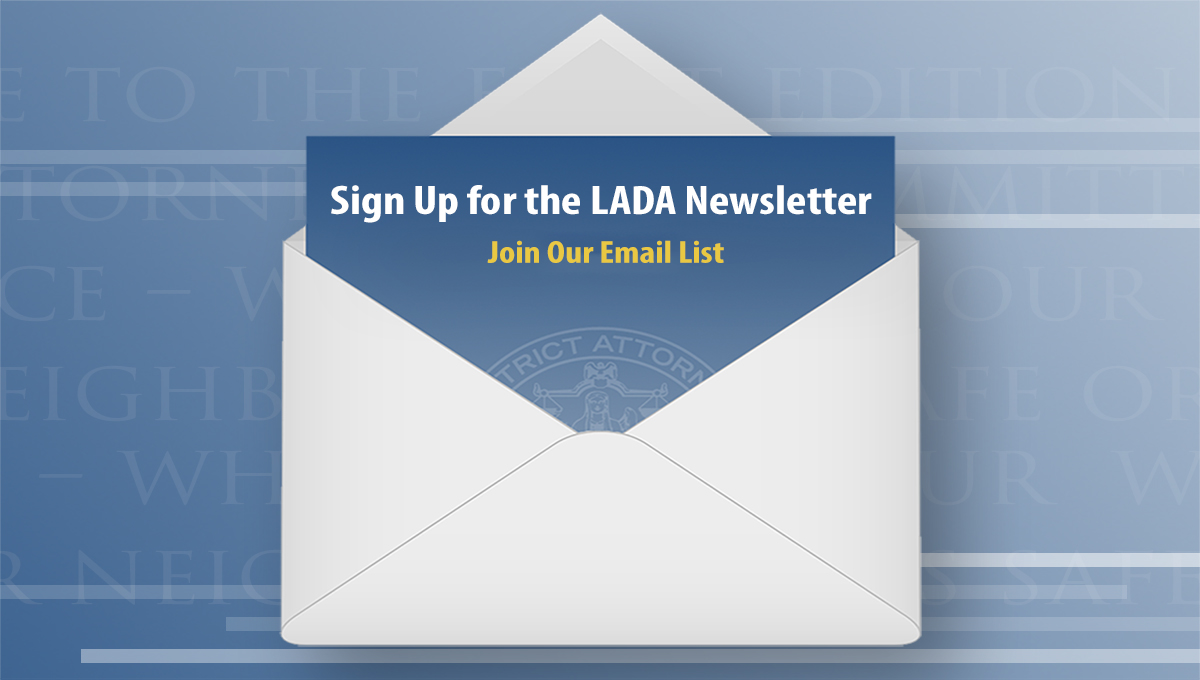 The Los Angeles County District Attorney's Office newsletter is emailed to subscribers the first Monday of each month and features a personal message from District Attorney Jackie Lacey, highlights of significant cases and tips on how to avoid falling prey to common financial scams. Readers also will get an inside glimpse into the inner workings of the deputy district attorneys, investigators and support staff members who comprise the nation's largest local prosecutors' office.
Click here to join the email list.
2017 Newsletters
December 2017 Newsletter: Pre-Filing Diversion Program, LADA Employees Honored, and more...
November 2017 Newsletter: Third Strike Resentencing Unit, LADA Helps Victims in Las Vegas and more...
October 2017 Newsletter: Crimes Against Peace Officers Section, LEAD Pilot Program and more...
September 2017 Newsletter: Consumer Protection Division, Ask a Healthcare Law Expert and more...
August 2017 Newsletter: Arson and Explosives Section, Marijuana Prosecutors and more...
July 2017 Newsletter: ESCARS Unit, Volunteers of the Year, NACo Awards and more...
June 2017 Newsletter: Child Abduction Section, From Project LEAD to Law School and more...
May 2017 Newsletter: Healthcare Fraud Division, Take Our Daughters & Sons to Work and more...
April 2017 Newsletter: DUI Training, Japanese Attorney Visits Office and more...
March 2017 Newsletter: Charge Evaluation Division, Bert and Skippy and more...
February 2017: Fraud Alerts, A Day in the Life: Code Enforcement Investigator, and more...
January 2017: Restitution Enhancement Program, Children's Waiting Room Mural and more...