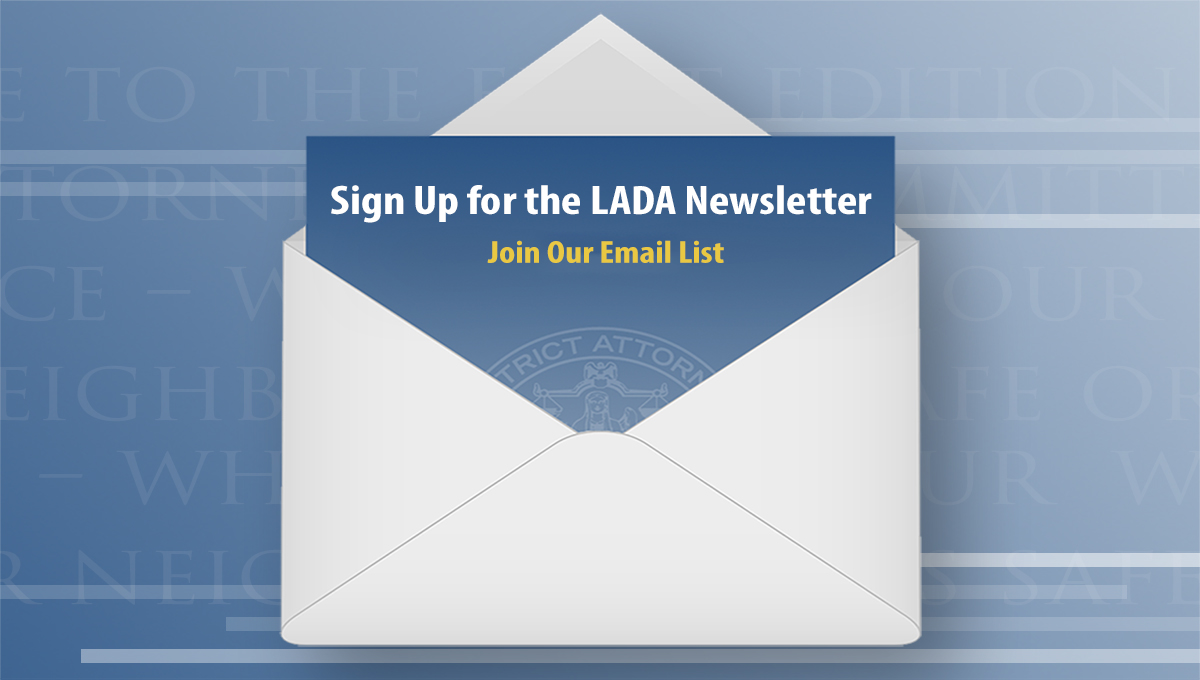 The Los Angeles County District Attorney's Office newsletter is emailed to subscribers the first Monday of each month and features a personal message from District Attorney Jackie Lacey, highlights of significant cases and tips on how to avoid falling prey to common financial scams. Readers also will get an inside glimpse into the inner workings of the deputy district attorneys, investigators and support staff members who comprise the nation's largest local prosecutors' office.
Click here to join the email list.
2019 Newsletters
December 2019 Newsletter: Exonerating a Wrongfully Convicted Man, Prosecuting LADA's First Genetic Genealogy Case, JUUL Lawsuit and more...
November 2019 Newsletter: Witness Credibility, Preliminary Hearing Unit, A Day in the Life: Human Trafficking Victim Services Representative and more...
October 2019 Newsletter: The Edward Buck Case, Mental Health Awareness Training, Legislation and more...
September 2019 Newsletter: Bail Reform, Records Management Section, Ask a Complex Child Abuse Prosecutor and more...
August 2019 Newsletter: Human Trafficking Posters, Alternative Sentencing Courts, MS-13 Gang Members Charged With Murder and more...
July 2019 Newsletter: Death Penalty, Project LEAD Reaches More Students, State Hospitals Linked to Court Via Video and more...
June 2019 Newsletter: Expanded Conviction Review Unit Criteria, New Prison Crimes Unit, Combating Opioid Abuse and more...
May 2019 Newsletter: Murder Resentencing Unit, Volunteers of the Year, Take Our Daughters and Sons to Work Day and more...
April 2019 Newsletter: Clearing Cannabis Convictions, Consumer Fraud Summit Spreads Awareness and more...
March 2019 Newsletter: Notario Fraud Unit, A Day in the Life: Parole Division Prosecutor and more...
February 2019 Newsletter: Mental Health Division, Meet the District Attorney's Special Counsel and more...
January 2019 Newsletter: New Executive Management Team, Envoys of Honor and more...