August 5, 2015: District Attorney Jackie Lacey Offers Mental Health Plan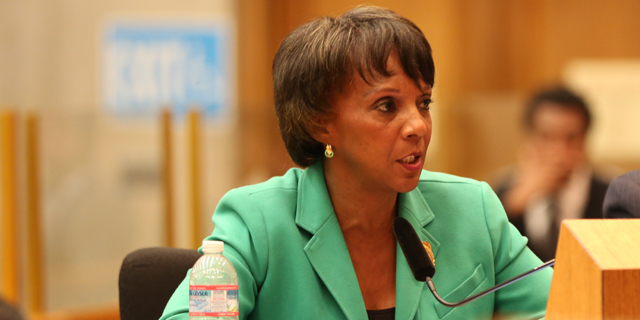 District Attorney Jackie Lacey discusses plan to divert mentally ill offenders from county jail.
Los Angeles County District Attorney Jackie Lacey presented a comprehensive plan to the Board of Supervisors that recommends enhanced treatment and services to safely divert mentally ill offenders from county jail.
The report, entitled "A Blueprint for Change," represents a collaborative effort among various governmental agencies and nonprofit organizations over the past year.
District Attorney Lacey, who founded and chairs the county's Mental Health Advisory Board, said it is a "once-in-a-lifetime opportunity" to help mentally ill people involved in the criminal justice system.
"A jail environment simply is not conducive to the treatment of a mental illness," District Attorney Lacey told the supervisors on Aug. 4, 2015.
 "We believe that by providing appropriate mental health services, substance abuse treatment, job training as well as permanent supportive housing when it is needed, the mentally ill are stabilized and less likely to commit future crimes."
 The plan recommends expanding training for law enforcement officers to have more compassionate and effective interaction with the mentally ill. Better trained personnel will likely reduce litigation and judgment costs.
 The number of co-deployed law enforcement teams, comprised of a mental health professional and a law enforcement officer, that respond to 911 calls and service requests for suspected mentally ill people should be increased, according to the report.
The plan also identifies different types of treatment-based housing that can help mentally ill offenders from immediately after initial contact with law enforcement to permanent housing after being in jail.
Lacey said mental health diversion isn't a jail reduction plan, but notes if the number of jail beds for the mentally ill are reduced it will allow violent felony offenders who aren't ill to serve a longer percentage of their sentences.
She added that it will take a decade to erase years of neglecting mentally ill offenders in Los Angeles County.
"We need to double down. We need to be courageous," District Attorney Lacey said. "We need to be innovative and we need to support this effort to go forward in the criminal justice system in this county."