July 27, 2015: District Attorney Jackie Lacey Launches Summer Pet Safety Campaign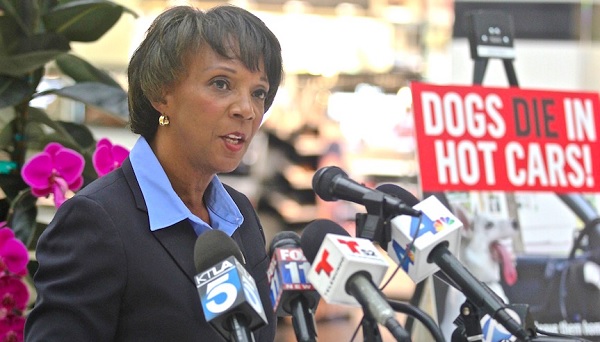 District Attorney Jackie Lacey announces a campaign to warn pet owners that leaving dogs in hot cars is illegal. Below: District Attorney Lacey and Nicole Herft, founder of the Animal Law Guild, present Nomo, the campaign's "spokesdog."
"Dogs Die in Hot Cars!"
District Attorney Jackie Lacey offered that warning last week as she launched a countywide campaign to remind pet owners that leaving an animal in a hot car is not only cruel but also illegal.
"It is never alright to leave a pet alone in a hot car – not when a window is left 'cracked' open, not when the car is parked in the shade and not when you think you'll be in the store for just a few minutes," District Attorney Lacey said.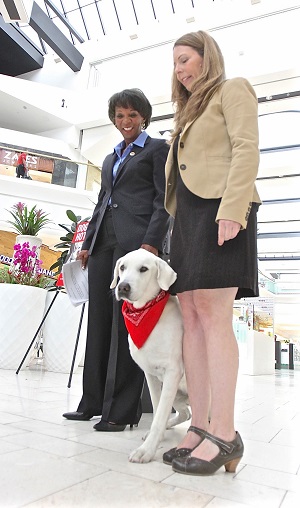 "Leaving a dog alone in a hot car is a crime," she said.
First-time offenders may be fined $100.  Repeat offenders may be fined $500 and sentenced to up to six months in county jail. If an animal is harmed or dies, owners may be charged with felony animal cruelty, which carries a three-year prison sentence.
District Attorney Lacey launched the campaign on July 23 at Westfield Fashion Square in Sherman Oaks.  She was joined by Nomo, a 13-year-old white Labrador, and "spokesdog" for the summer pet safety campaign.
The "Dogs Die in Hot Cars!" poster is displayed at seven Westfield shopping centers throughout Southern California.  The poster in English and Spanish and a fact sheet also are available at http://da.lacounty.gov/media/media-resources for posting on websites and social media.
As part of the campaign, the District Attorney's Office trained more than 180 Westfield employees on how to respond when pets are found in locked vehicles inside mall parking lots.
District Attorney Lacey reminded the public that only peace officers, humane officers and animal control officers – not members of the public – are legally allowed to take action to remove an animal from a hot vehicle, including breaking a window. 
Shoppers are encouraged to contact Westfield security if they see unattended pets in vehicles parked at their malls.  Otherwise, residents should contact their local animal control agency.  If an animal in an unattended vehicle is in distress, call 911.