August 8, 2022: District Attorney Gascón Announces Murder Charges in Crash That Killed Six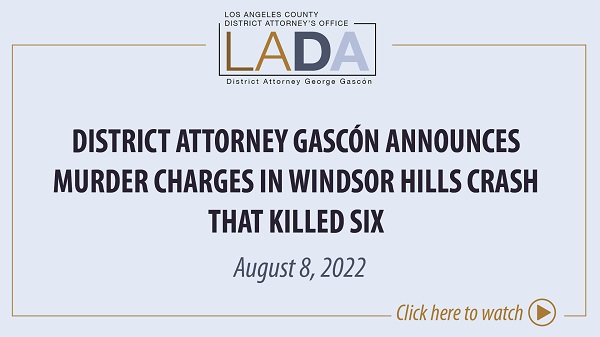 District Attorney George Gascón announced that his office has charged a Texas woman with six counts of murder for a deadly multi-car crash in Windsor Hills.
"Today, we begin the process of holding accountable the person responsible for the deaths of six people, including a pregnant woman, and their families," District Attorney Gascón said. "This is a case that will always be remembered for the senseless loss of so many innocent lives as they simply went about their daily routines. I want to thank our prosecutors and the investigating officers at the California Highway Patrol for their work on this case.
While the wreckage of this fiery crash at this intersection was removed and traffic eventually resumed, there is catastrophic damage to the families and friends of those killed and injured. It is not only a tremendous loss to the families but our entire community who learned of this incredible tragedy or have watched the now viral video of the collision. I'm sure this is a time of great sorrow and grieving for the families and friends of those who will be forever affected by what has transpired."
Click here to watch the news conference.