CRIMINAL CASE FILINGS 2019-2021*
The District Attorney's Office is utilizing science and data to craft thoughtful and humane policies that enhance public safety, target the root causes of criminal behavior and build healthier communities. For the first time, the office has begun using data to shape its approach to holding people accountable and providing trauma-informed services to victims and survivors of crime. Through the publication of data, transparency has increased, giving the residents of Los Angeles County access to information that demonstrates the office's commitment to keeping them safe.
FELONY FILING RATES

Public safety is the overriding priority of the office as shown by the almost identical rate in which felony cases were filed in Los Angeles County over the past three years. The office filed felony charges against 32,114 people between Jan. 1, 2021, and Nov. 30, 2021. They represent 51% of all the individuals whose cases were presented by law enforcement agencies to the office for criminal charge filing consideration. By comparison, in 2019, the last full year before the pandemic, the felony filing rate was 56%. Filings decreased when the pandemic began in March 2020.
MISDEMEANOR FILING RATES
(Except for Addiction-Related Misdemeanors**)

Despite a drop in the overall number of misdemeanor cases filed in 2021, the filing rate for misdemeanor crimes not associated with addiction also has remained consistent over the past three years. The office filed misdemeanor charges against 34,496 peoplebetween Jan. 1, 2021, and Nov. 30, 2021, in the unincorporated areas of Los Angeles County and in 78 of the county's 88 cities.
The office no longer prosecutes certain misdemeanor crimes, such as public intoxication, simple possession of narcotics for personal use and possession of drug paraphernalia. Instead, the office seeks to address the root causes of these crimes through treatment in an effort to reduce future criminal behavior.
Total Misdemeanor Filing Rates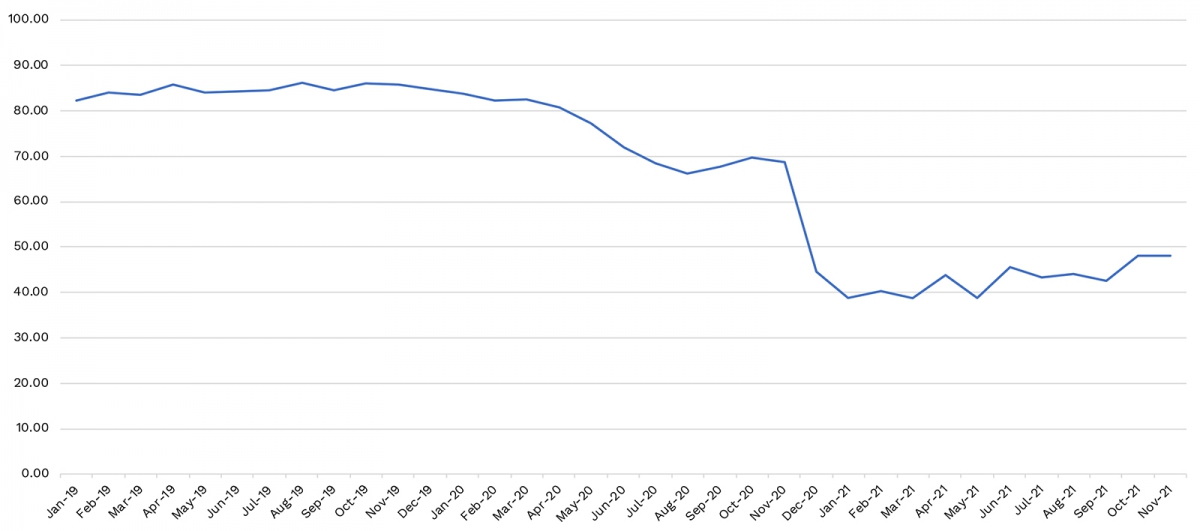 Addiction-Related Misdemeanor Filing Rates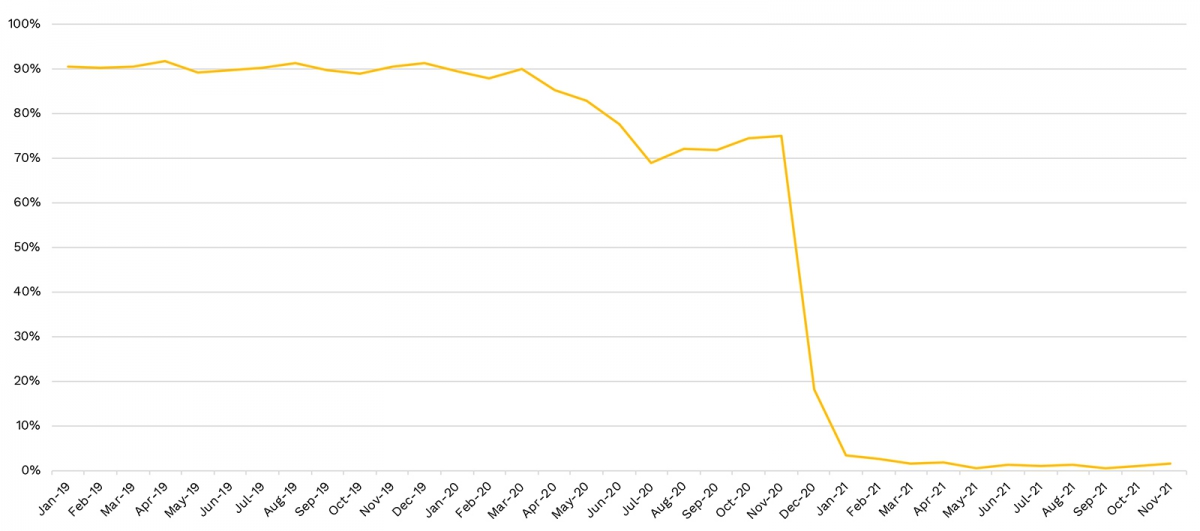 * January 1, 2021, through November 30, 2021
** Figures do not include filings of Health & Safety Code 11377 (possession of methamphetamine and other narcotics), 11364 (possession of drug paraphernalia), 11350 (possession of a controlled substance), 11550 (under the influence of a controlled substance) and Penal Code 647(f) (public intoxication).