September 11, 2015: Don't Get Duped in Jury Duty Scam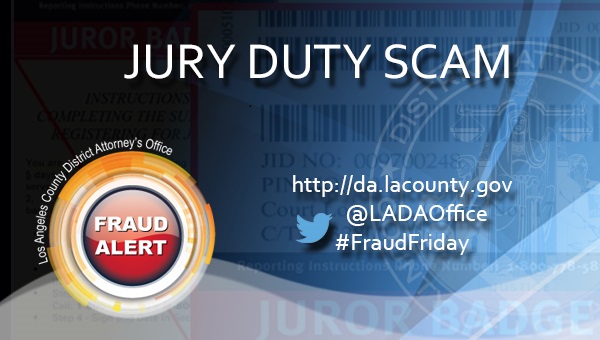 The calls and emails appear legitimate and frightening -- pay up for failing to report for jury duty or you may be arrested.
Unsuspecting Los Angeles County residents may fall for the jury duty scam because con artists use bureaucratic language, official-looking seals and other tactics to dupe people into believing they were supposed to show up for court.
Callers will identify themselves as a court officer and claim an arrest warrant has been issued. They demand payment either by a credit or prepaid card to rectify the situation. If the person resists, the fraudster will say that police have been sent out to the home for an immediate arrest.
Emails also are deceptive. Using what appears to be a county seal, residents are told that payments may be made online. Failure to do so, according to the fake email, will result in punishment.
A court official or a law enforcement officer will never call you for a non-appearance or to ask you to pay a fine. Jurors who don't show up are sent a letter and must appear before a judge in court.
TIPS:
Do not click on links from unsolicited emails
Los Angeles County Superior Court does make automated phone calls reminding people to appear for jury duty, but it will not ask for any personal information
If you are unsure whether you have been summoned for jury duty, you can find information here: http://www.lacourt.org/division/jury/Jury.aspx or contact Los Angeles County's Jurors Services at (800) 778-5879.
Prosecutor Rouman Ebrahim warns about the scam in this video: http://vimeo.com/138923904.
Follow @LADAOffice on Twitter for up-to-date news and use #FraudFriday