January 22, 2016: Don't Compensate Crooks in Collection Agency Scam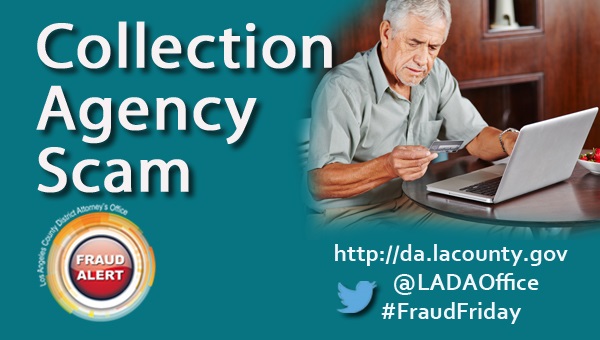 Thieves posing as debt collectors are taking advantage of unsuspecting seniors.
The swindlers make cold calls and claim to represent a collection agency. They will make a variety of threats, including filing a lawsuit, unless payment is made.
They also will pester consumers repeatedly until a fee is paid via money transfer or a prepaid card. Making the scam even worse, the thieves will sell seniors' information to other fraudulent groups to repeat the scheme once again.
TIPS:
Check your accounts to see if you owe money
Screen calls from collection agencies if you do not have any debts
Report any false collection attempts to your local law enforcement agency
For more information on scams that target seniors, go to the Elder Abuse/Financial Fraud pages of the District Attorney's website (http://da.lacounty.gov/seniors/financial-fraud) or https://vimeo.com/150942366.
If you or someone you know has been the victim of a scam, please contact the Los Angeles County Department of Consumer and Business Affairs at (800) 593-8222 or visit http://dcba.lacounty.gov.
Follow @LADAOffice on Twitter for up-to-date news and use #FraudFriday.