February 26, 2016: Seniors Must be Vigilant in Auto Collision Scam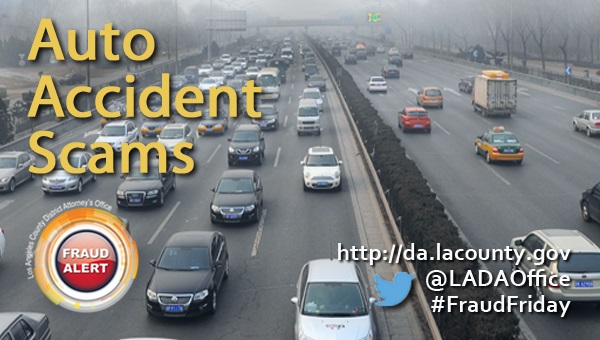 Older motorists should use caution if someone claims they were involved in an auto accident and demands money.
Con artists pressure seniors not to call police or report the incident to their insurance company. Instead, they seek cash payments -- often, thousands of dollars -- to compensate them for damages or injuries that do not exist.
In some instances, the crook will call or confront the senior in public, asking for additional payment.
TIPS:
Inspect both vehicles to see if there is any damage
Call local law enforcement
For more information on scams that target seniors, go to the Elder Abuse/Financial Fraud pages of the District Attorney's website (http://da.lacounty.gov/seniors/financial-fraud) or https://vimeo.com/150942366.
Follow @LADAOffice on Twitter for up-to-date news and use #FraudFriday.