August 13, 2020: District Attorney Jackie Lacey Discusses Racism and the Criminal Justice System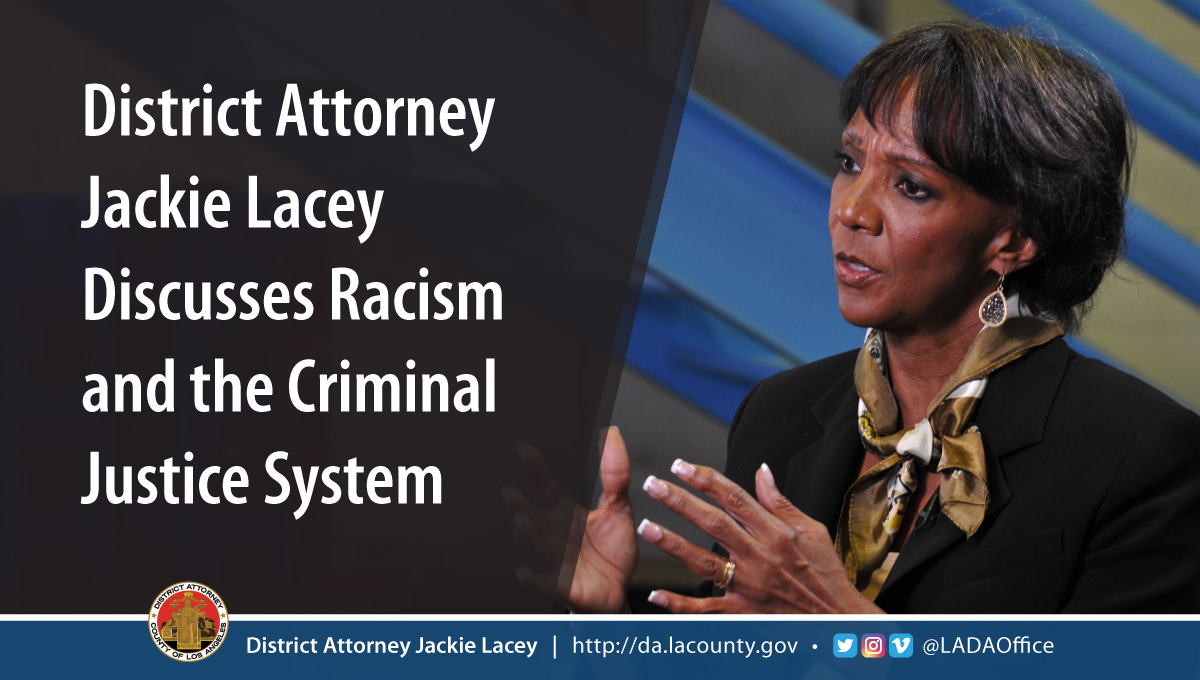 Dear Friends:
As the first African American and the first woman to lead the largest local prosecutor's office in the nation, I condemn racism and criminal acts of violence committed by civilians as well as law enforcement officers. 
My parents moved to California from the segregated South in the 1950s. I will never forget the stories they shared of what life was like back then for Black people. These stories shape who I am as a person and influence how I lead the Los Angeles County District Attorney's Office. I believe in justice and I want people of color who are victims or defendants to be treated justly. 
The Los Angeles County District Attorney's Office is one of the most diverse offices in the nation. We acknowledge that racism exists. I was one of the first department heads in the County to mandate unconscious bias training.
I acknowledge that the justice system is not perfect. We have led the charge to make substantial changes in how we administer justice. We published "A Blueprint for Change" in 2015. We have trained more than 2,000 law enforcement personnel on de-escalation techniques. We advocated for reallocating resources to mental health services. We encouraged the county to create more co-deployed teams to respond to emergency calls. As a result of our efforts, we inspired the creation of the Office of Diversion and Reentry. 
We realize that because we are a constitutional office invested with the responsibility to address crime that we are guardians of justice. We will continue to show courage in addressing violent crime, but we will also show empathy and compassion for all who are affected by our decisions.