October 5, 2022: TV Producer Eric Weinberg Charged With Forcible Rape, Assault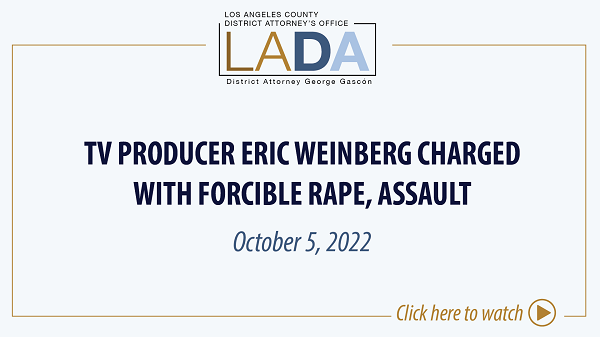 District Attorney George Gascón announced that television producer Eric Weinberg has been charged in an 18-count complaint for sexually assaulting five women at different times between 2014 and 2019.
"The defendant relied on his Hollywood credentials to lure young women for photo shoots where he allegedly sexually assaulted them," District Attorney Gascón said. "Power and influence can corrupt some to hurt others that often leads to a lifetime of trauma for those who are victimized.
My office's Bureau of Victim Services is here to help in the healing process to ensure all victims have the guidance and support they need on the road to recovery."
Click here to watch the news conference.