September 12, 2018: Prosecutors, Police Recognized for Firearms Relinquishment Project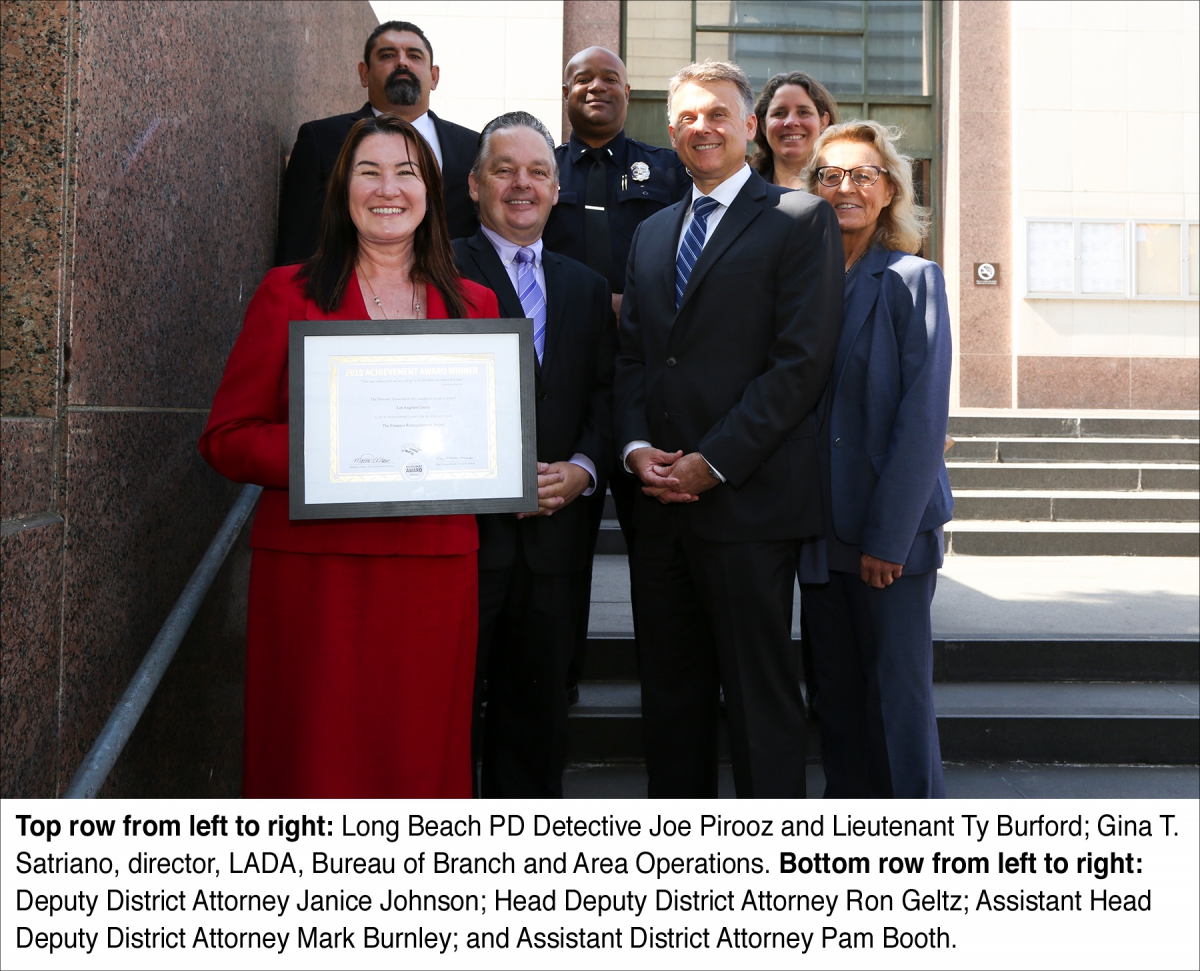 On Sept. 11, the Los Angeles County Board of Supervisors recognized prosecutors and police for having received the 2018 National Association of Counties Achievement Award in the category of Criminal Justice and Public Safety for the Firearms Relinquishment Project.
The consequences can be deadly when access to guns is coupled with domestic violence.
Beyond posing a danger to abused spouses and children, gun safety advocates report that more than half of all mass shootings in recent years were committed by people with a history of domestic violence.
To help break this grave connection, Los Angeles County District Attorney Jackie Lacey initiated the Firearms Relinquishment Project (FRP), which fills the gaps in California's firearm relinquishment laws by providing the procedures and enforcement necessary to greatly enhance public safety.
"The Firearms Relinquishment Project is an important step needed to reduce the threat of gun violence in our communities," District Attorney Lacey said. "We are working to expand it to other communities. I'm very pleased it is receiving national recognition."
In 2016, prosecutors established the program that created and implemented a formal standardized procedure in partnership with the Long Beach and Signal Hill police departments. The program ensures that criminally charged defendants turn over their firearms.
The goal is to make sure that guns are safely removed from or surrendered by people who are arrested and subject to written criminal protective orders.
To date, authorities identified 26 people through FRP who needed to surrender weapons, including 21 handguns, a shotgun, five rifles, two assault weapons, 24 magazines and 3,826 rounds of ammunition.
District Attorney's Office staff members are trained to prioritize these cases and take steps to make judges aware of the suspect's firearms status as soon as possible.
Prosecutors also ask judges for hearings to make sure defendants are complying with firearm restrictions and request search and seizure conditions as part of being released from custody. Additionally, prosecutors ask for consideration of the defendant's access to guns when bail is considered and at sentencing.
The program is in the process of expanding to law enforcement agencies and courthouses in other parts of Los Angeles County.