December 7, 2018: DA Jackie Lacey Joins Crime Victim Families for Holiday Shopping at Target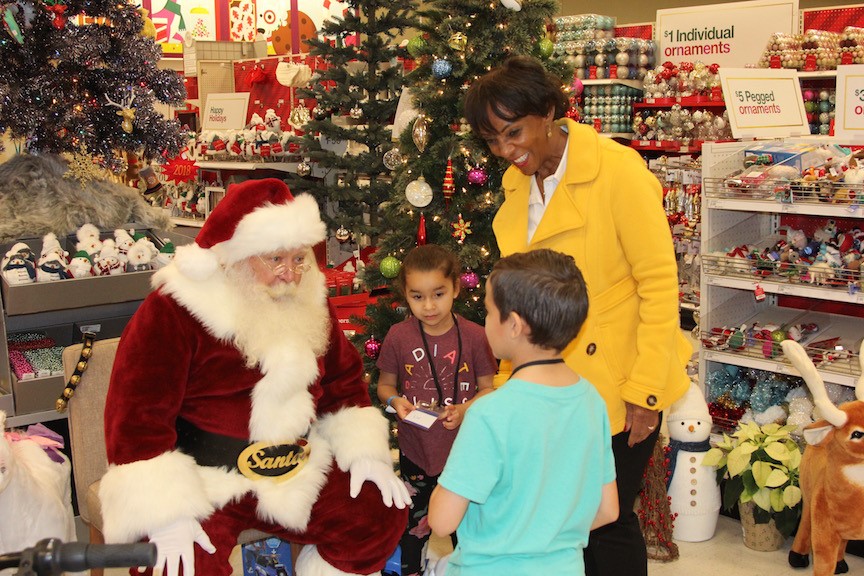 Holiday cheer filled the air as Los Angeles County District Attorney Jackie Lacey and district attorney investigators shopped for gifts with child victims of violent crime on Dec. 5 at Target in Pasadena.
Fifty children each received $200 gift cards to spend on presents for themselves and their families.
"For more than 30 years, the Los Angeles County District Attorney's Office has helped child victims of crime and their families celebrate the holidays," District Attorney Lacey said. "We are thankful for Target and all who worked to make this event possible."
The shopping spree was made possible, through Heroes & Helpers, a community-based program funded by Target Inc.
Maria Martinez, 10, who was shopping with her two sisters, decided she would use some of her purchases to support a toy and clothing drive.
"This means that I get to help and donate to someone in need," Martinez said. "I'm planning on giving something to the Antelope Valley (Transit Authority) Stuff-A-Bus."
Korionna Bishop, 15, who plays varsity basketball at her high school, filled her cart with clothing, toiletries and a basketball.
"I'm so grateful, thankful and appreciative for having been thought of," Bishop said.
Target's Heroes & Helpers program pairs public safety officials with underprivileged youth.
Participating families were nominated by members of the District Attorney's staff. At the event, personnel from the District Attorney's Bureau of Investigation helped children select their wish-list items.