February 27, 2017: Bert and Skippy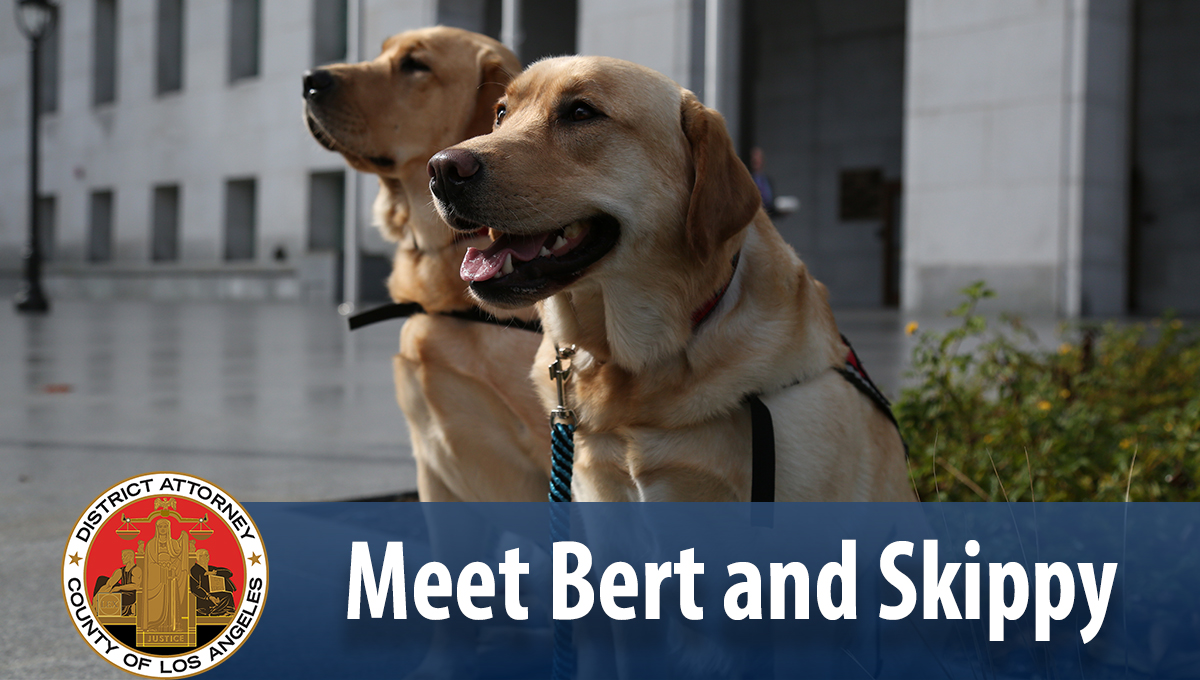 Two new employees have been roaming the corridors of the Hall of Justice. Staff members inevitably recognize the duo by their short legs and golden fur coats.
Their names? Bert and Skippy.
With their handlers Martha Carbajal and Ashley Meyers, the four form the core of the newly created Bureau of Victims Services K-9 unit.
Unlike detection dogs trained to sniff out drugs, explosives or other dangerous elements, facility dogs are a whole other breed.
Skippy, a Yellow Labrador Retriever, and Bert, a Yellow Labrador and Golden Retriever, offer support for child abuse and sexual assault victims.
Scientific research shows caressing an animal produces short-term decreases in blood pressure and heart rate as well as diminishes feelings of loneliness.
For many victims, interacting with prosecutors and testifying in public courtrooms triggers adverse mental and physical responses.
Allowing a victim to pet a facility dog during interviews and court testimony can give the victim a sense of calmness. It also provides a seamless sense of security in an intimidating environment.
Bert and Skippy began their training at six weeks old and, after a year of schooling, passed a public access test. The dogs also learned dozens of cues that can be performed with minimal prompting.
Although their duties are unconventional in the law enforcement community, Bert and Skippy fight crime in a new way. The facility dogs offer non-judgmental support and a shoulder to cry on for some of the most fragile victims in Los Angeles County.