August 28, 2015: Beware of Timeshare Purchase Scams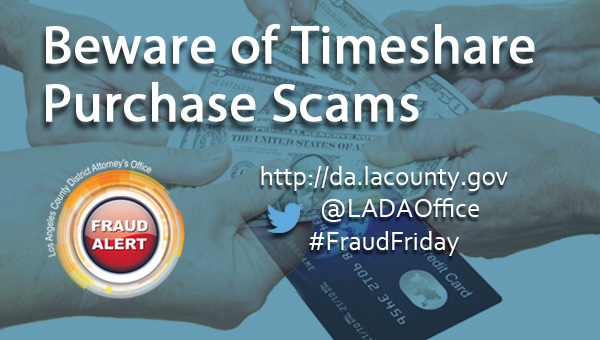 Owners of timeshare properties can be inundated with offers that buyers are eager to take over their payments. But often these offers are scams targeting seniors.
Con artists in this scheme require an upfront fee to move forward with the process. They claim the fee is needed for appraisal, marketing analysis, transfer and/or closing. In some cases the fees supposedly go toward marketing – and include such wording in a phony contract.
But the truth is the con artists have no buyers and simply walk off with the money you paid.
TIPS:
Never pay upfront fees to anyone promising to sell or rent your timeshare.
List your timeshare for free or minimal payment on reputable websites.
For more information on scams that target seniors, go to the Elder Abuse/Financial Fraud pages of the District Attorney's website (http://da.lacounty.gov/seniors/financial-fraud). If you or someone you know has been the victim of a scam, please contact the Los Angeles County Department of Consumer and Business Affairs at (800) 593-8222 or visit http://dcba.lacounty.gov.
Follow @LADAOffice on Twitter for up-to-date news and use #FraudFriday.