September 16, 2021: LADA Joins County's Anti-Racism Initiative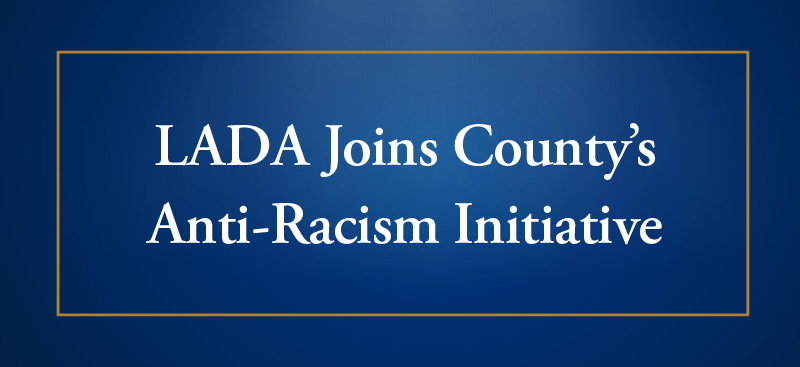 As part of a countywide initiative, LADA is taking a deeper look into how the work of the office impacts the community.
Seven prosecutors are participating the county's Anti-Racism, Diversity and Inclusion Initiative (ARDI), which will guide and increase the county's commitment to fighting racism and bolstering inclusivity.
"The work that we do intersects with mental health issues and economic justice in terms of jobs people can get after their incarceration," said Deputy District Attorney Kim Toney. "It affects housing, education. What we do has broader implications."
In addition to Toney, LADA's participants include Assistant District Attorney Victoria Adams, who is the lead from the office, Bureau of Victim Services Director Michele Daniels and Deputy District Attorneys Belle Chen, Jessie McGrath, Parag Agrawal and Guillermo Santiso.
The representatives are working with the county's other departments to improve how the office interacts internally and with the public, victims, witnesses and defendants.
"Historically, there has been a lack of trust especially in communities that are the most affected by criminal justice policies," Toney said. "If we can develop policies and practices that recognize that the work we do has broader implications, then we can be more sensitive to the needs that have constantly plagued us in terms of finding ways to actually build and maintain trust."
McGrath said ARDI is developing ways to prevent youths from entering the criminal justice system and the jail-to-prison pipeline.
"This is about how our views overtly and covertly affect people," McGrath said. "It's a matter of getting people to be more reflective and realize that our decisions have an effect even in ways we may not think about."