May 5, 2021: Prosecutors Craft Juvenile Three Strikes Reform Legislation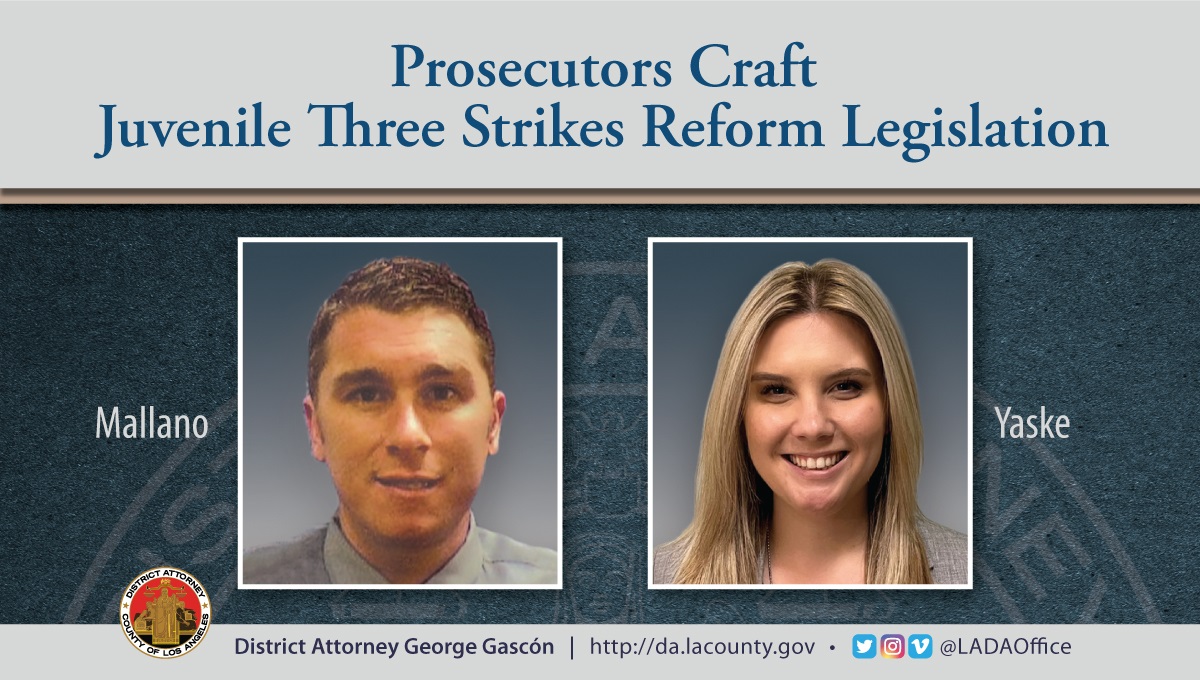 To Deputy District Attorney Michael Mallano, it just seemed wrong for youths to face California's Three Strikes Law without being given the same rights as adults.
So Mallano and Deputy District Attorney Katharine Yaske proposed a way to right that wrong.
With the assistance of Special Advisor Alisa Blair and the office's Legislative Advocate Daniel Felizzatto, they drafted legislation that would stop strikes committed by minors from later being used against them in adult proceedings.
Assembly Bill 1127 also would allow people to petition the court for resentencing if their prior juvenile adjudication was used to enhance an adult felony conviction.
A 30-year veteran prosecutor, Mallano said when a youth faces a strike conviction, which likely will affect them for the rest of their lives, the youth does not have the right to a jury trial – only a bench trial before a judge.
"It just seems unfair to impose this incredibly serious consequence on them without the right to a jury trial when adults have that right," he added.
Under current law, after a judge finds charges against a juvenile true, that finding is prohibited from being considered a conviction for a crime for any purpose. The law "is completely inconsistent with allowing it to be used as a strike," said Mallano, deputy-in-charge of the Compton Juvenile Office.
"This is an issue of fundamental fairness," Yaske said.
"By eliminating juvenile strikes, AB 1127 will take much-needed steps to reduce mass incarceration in our state and allow California to lead the nation in addressing the disparate impact that juvenile strike laws have on people of color," said District Attorney George Gascón at an April 9 news conference, announcing the legislation. The bill was authored by Assembly Members Miguel Santiago (D-Los Angeles) and Bill Quirk (D-Hayward).
To read more about the legislation, click here. To watch the news conference, click here.