December 20, 2018: Victims of Violent Crimes Receive Gifts Through LADA Holiday Giving Drive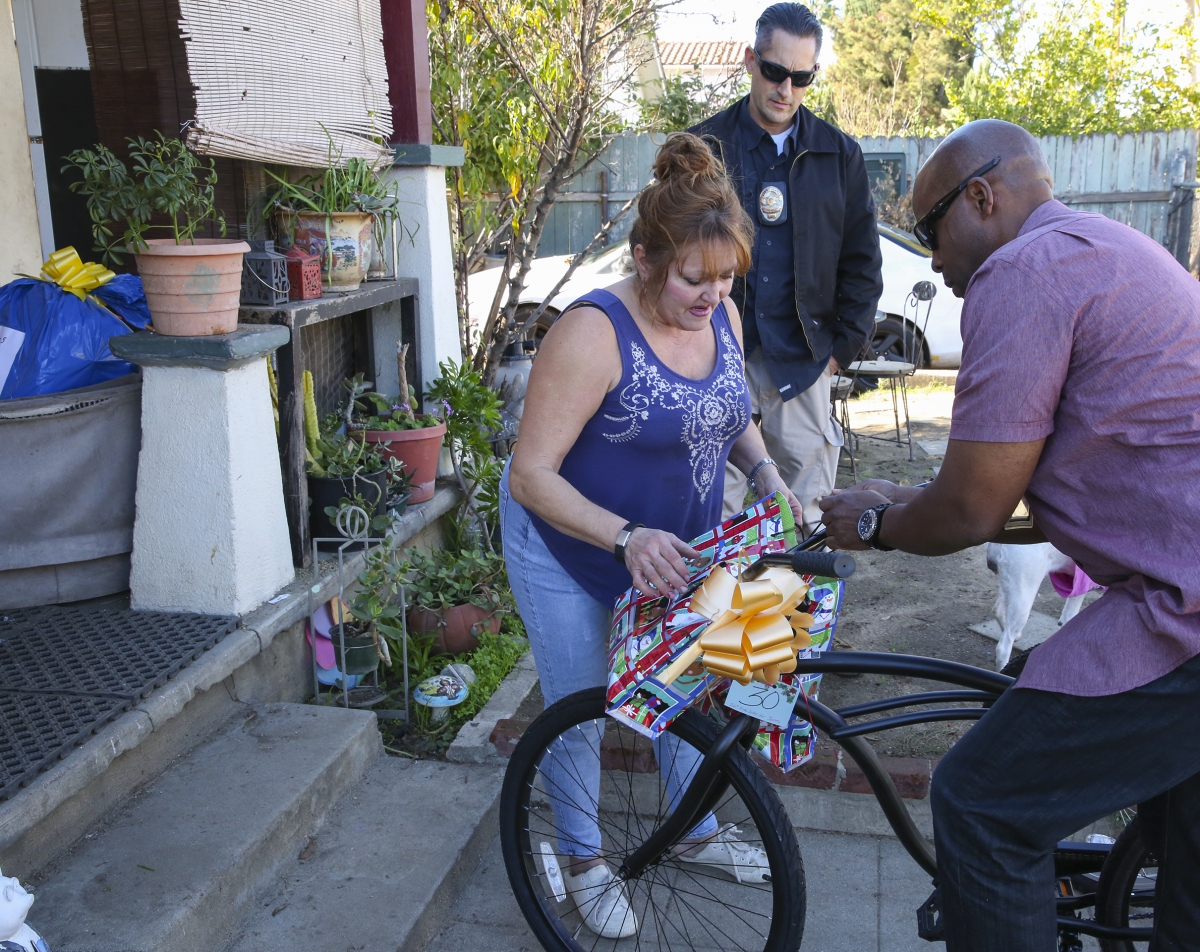 Los Angeles County District Attorney investigators ventured out into Los Angeles County on Dec. 13 to deliver gifts to families and victims of homicide, domestic violence and assault as part of the office's annual Holiday Giving Drive.
"During the Holiday Giving Drive, our hope is that we can make the holidays a little brighter for crime victims and their families," District Attorney Jackie Lacey said.
Among those who received gifts were children as young as three months old and adults including Thomas Mekan, an elderly victim who asked for a robe, plush blanket and digital Pac-Man game.
"This makes me feel appreciated, especially knowing people care because I'm low-income and my family is back east," Mekan said.
Debra Cruze, the mother of Stevie Ray Cruze, Jr., who was killed on the beach in Santa Monica earlier this year, tearfully accepted bicycles for his two children, both age 11.
"My son was planning to get bicycles for his children – they're going to be so excited," Cruze said.
Gifts, selected based on the recipients' request, were purchased by district attorney personnel using monetary donations. Items also were donated by The Outlet by E.L.S. in Azusa.
More than 200 families and 500 youths have received gifts and items of need during this holiday season.
The Holiday Giving Drive is a combined effort of the office's Bureau of Victim Services and Bureau of Investigation.
If you would like to contribute to the Holiday Giving Drive, visit http://www.calfund.org/District-Attorneys-Victim-Assistance-Fund/ to donate to the District Attorney's Victim Assistance Fund, which is administered by the California Community Foundation.