August 10, 2015: Three Honored for Acts of Bravery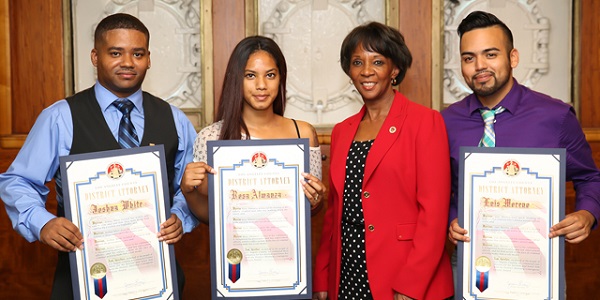 Pictured above from the left: Joshua White, Rosa Almanza, Los Angeles County District Attorney Jackie Lacey and Luis Moreno
District Attorney Jackie Lacey presented Courageous Citizen Awards on Aug. 6, 2015, to three Los Angeles County residents.
"We commend the acts of heroism demonstrated by these everyday people," District Attorney Lacey said during the luncheon ceremony, hosted by the Rotary Club of Long Beach.  "They stood up for victims of crime and played pivotal roles in the prosecution of each case."
Joshua White, 28, of Los Angeles, was leaving a mall on May 15, 2013, when two sex-trafficking victims asked him for help.  The women were making a last-ditch attempt to escape their physically abusive pimp.  Mr. White drove them to a police station and later testified at trial.  The defendant was sentenced to 47 years and four months to life in state prison.
Rosa Almanza, 21, of Gardena, stopped to help on July 13, 2014, after seeing a woman repeatedly hit her blind, elderly boyfriend over the head with a metal cane.  Ms. Almanza called 911 and waited with the victim until Long Beach police arrived.  She also testified at the trial.  The defendant was sentenced to 19 years in state prison.
Luis Moreno, 27, of Los Angeles, helped police catch an armed robber.  The wireless phone store employee dropped an iPhone dummy with an active GPS locator into the robber's bag.  The robber was quickly located and arrested with the stolen property.  The defendant was sentenced to 30 years in state prison.