November 19, 2019: Spotlight: Preliminary Hearing Unit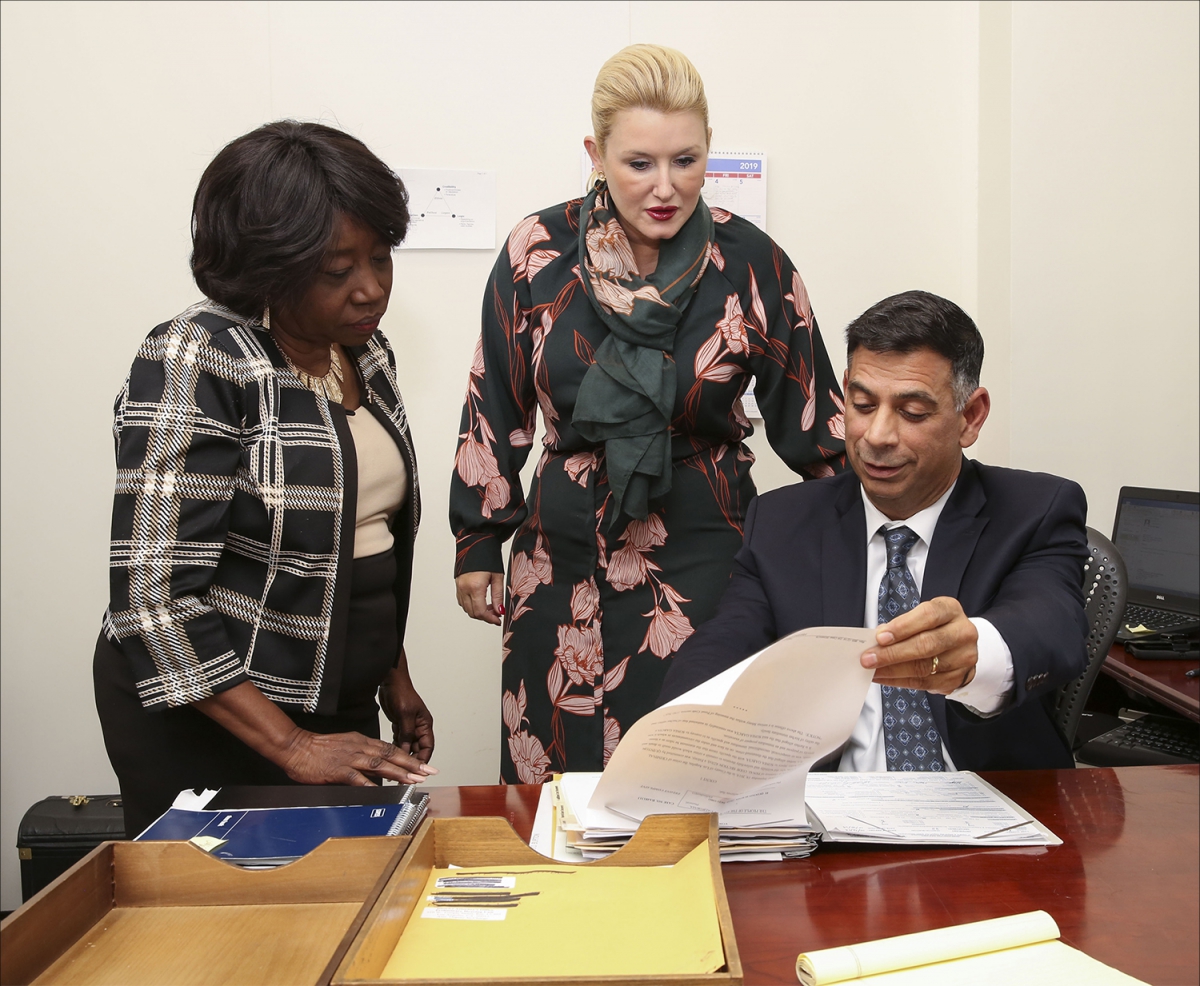 Deputy-in-Charge Mario Haidar of the Preliminary Hearing Unit meets with Senior Legal Office Staff Assistant Brenda Harris, pictured left, and Deputy District Attorney Emily Street.
Energetic and tenacious prosecutors lay the groundwork and test the veracity of witnesses and evidence in the Preliminary Hearing Unit, which conducts thousands of mini trials each year.
The 11 deputy district attorneys, seven staff members and roughly a dozen law clerks assigned to the unit participate in approximately 300 preliminary hearings a month at the Clara Shortridge Foltz Criminal Justice Center in downtown Los Angeles.
Preliminary hearings are a critical stage in the criminal justice process.
The hearings come after other deputy district attorneys have reviewed cases submitted by law enforcement agencies and determined that the evidence supports the filing of criminal charges.
At these hearings, deputy district attorneys present evidence to a judge, who must decide if sufficient evidence exists for the case to proceed to trial. If not, the case is dismissed.
It is the first opportunity for a deputy district attorney to gauge the strengths and weaknesses of witnesses and evidence in court .
"We're looking at the evidence in a fair and impartial way to make a decision as to whether the charges are accurate or not," said Deputy-in-Charge Mario Haidar. They may dismiss or add a criminal count based on the evidence.
If a defendant is ordered to stand trial, the preliminary hearing serves as an important record for the next deputy district attorney who will try the case before a different judge and possibly a jury. This record is key if witnesses change their testimony at trial or are unable to testify.
Deputy district attorneys in the unit also prosecute about 30 felony probation violation cases a month. They handle as many as 400 cases a month in Early Disposition Court, which gives defendants charged with nonviolent offenses the opportunity to plead guilty early in the judicial process and possibly have their convictions dismissed later if they successfully complete probation.