March 18, 2019: Spotlight: Notario Fraud Unit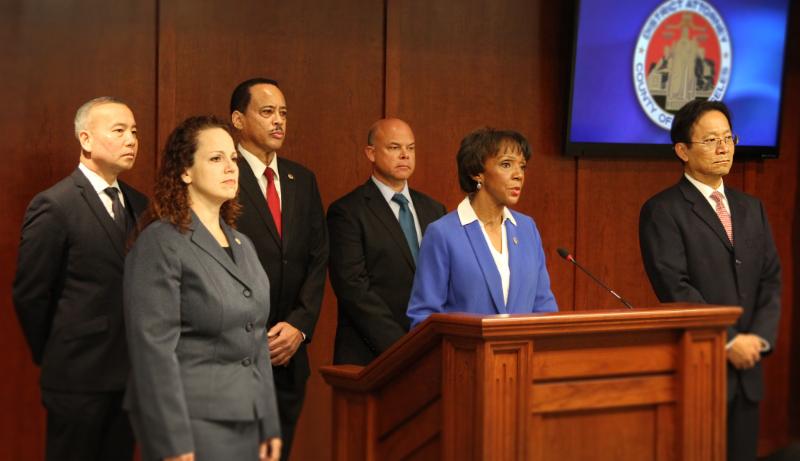 People seeking legitimate legal assistance to secure immigration documents sometimes are preyed upon by scam artists who portray themselves as attorneys and government officials.
To prosecute these financially devastating crimes, District Attorney Jackie Lacey created the Notario Fraud Unit. Since its founding in 2017, the unit has made contact with more than 600 fraud victims.
The two full-time deputy district attorneys and one investigator assigned to the unit develop cases and prosecute immigration fraud and the unlawful practice of law.
"Everyone – regardless of their immigration status – deserves to be protected against crime and to receive justice when they have been victimized," District Attorney Lacey said at a Feb. 12 news conference highlighting the unit's work.
"I will aggressively prosecute anyone who preys upon another person because of their language, cultural differences or their residency status," she said.
Eight cases have been filed against predators who have taken more than $3 million from at least 300 victims in the past two years. Four cases resulted in prison or jail time and restitution orders for the defendants. The other four are awaiting trial.
Those convicted include Romina Aida Zadorian, 49, of Montebello, who targeted 91 victims and pleaded guilty to grand theft, extortion and falsifying government documents. She was sentenced to 15 years in state prison and ordered to pay $667,396 in restitution.
Criminal investigations involving an additional 300-plus victims are underway.
District Attorney Lacey credited the Los Angeles County Board of Supervisors for providing her office with the resources needed to support the specialized prosecution of these large and complex cases.
The funding comes from a 2016 consumer protection settlement with Wells Fargo.
Deputy district attorneys assigned to the Notario Fraud Unit also conduct public outreach and education. They participate in immigration task forces and draft legislation to better protect consumers.
Please report immigration fraud to the District Attorney's Notario Fraud Unit at 213-257-2450.