August 28, 2019: Spotlight: Alternative Sentencing Courts Help Defendants, Reduce Crime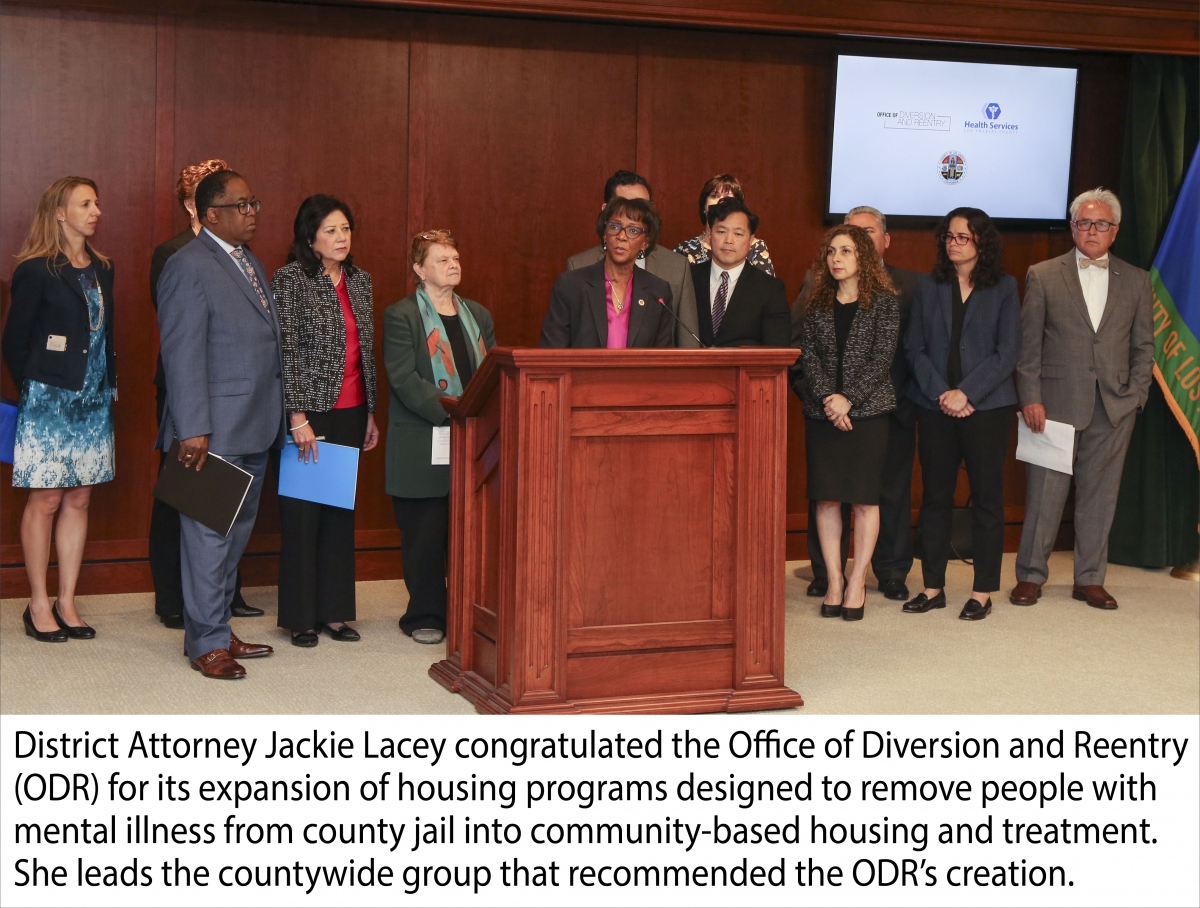 Kimberly Hassett represents a new kind of deputy district attorney.
Her work involves collaborating with defense attorneys, judges and representatives from social service agencies to help defendants get their lives back on track.
In 2014, District Attorney Jackie Lacey named Hassett the office's first Alternative Sentencing Courts Coordinator. She and 15 other deputy district attorneys provide assistance to their colleagues in determining if cases are appropriate for the alternative sentencing courts.
These courts focus on the root causes of an offender's criminal behavior and address those issues through treatment in an effort to help defendants become productive community members. These alternatives also free up more jail space for serious and violent offenders.
Hassett worked for many years as a deputy district attorney in branch courts and the Sex Crimes Division before being assigned to Drug Court in Compton in 2003. She has worked in the downtown Los Angeles alternative sentencing courts since 2009.
"It's a more humane and intelligent approach to criminal justice," Hassett said. "It's treating defendants with serious substance abuse and mental health issues as individuals rather than as criminals who need to be punished."
Deputy district attorneys assigned to alternative sentencing courts must consider the severity of the offense, past firearm use, past threats of violence, the extent of any injury suffered by the victim and the defendant's addiction severity, mental health issues and attitude toward treatment.
The office staffs Drug Courts, Veterans Court, the Second Chance Women's Re-Entry Court, Community Collaborative Court and Co-Occurring Disorders Court.
The county's newest alternative sentencing court, known as the Office of Diversion and Reentry (ODR) Court, has placed more than 3,500 inmates into housing in community-based settings with medical and psychological support since its inception in 2016.
Seventy percent of defendants remain conviction-free in the five years following completion of Drug Court. For Women's Re-Entry Court, 82 percent do not return to court in the first three years.
Although alternative sentencing courts focus on rehabilitation, Hassett said the office's first priority remains public safety and safeguarding victims' rights.