August 18, 2015: Project LEAD Brings Prosecutors into the Classroom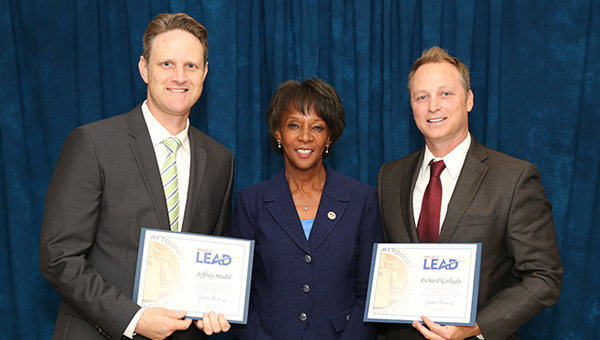 Deputy District Attorneys Jeff Stodel and Richard Gallegly were among the Project LEAD facilitators honored by District Attorney Jackie Lacey at a ceremony on Aug. 12. 
It may have been the only not guilty verdict to bring a smile to the face of Deputy District Attorney Jeff Stodel.
Stodel is a facilitator for Project LEAD, the District Attorney's law-related education program for fifth-graders. He and co-facilitators Deputy District Attorney Richard Gallegly and Law Clerk Kayla Walsh spent one hour a week last school year teaching kids at Breed Street Elementary School in Boyle Heights about the criminal justice system. 
The Project LEAD curriculum, which includes lessons on gangs, drugs and truancy, culminates with a scripted trial.  A jury is selected from amongst the students to deliberate on a case involving issues that young people may face. 
"One of the toughest things for my class to understand was the concept of reasonable doubt," said Stodel.  "The final lesson, which was actually the mock trial, I saw them all start to get it at the same time.  They ended up voting not guilty, which was fine with me because they all seemed to understand that the reason they couldn't vote guilty was because they had a reasonable doubt."
As part of this lesson, every student in the class participates.  Students play the roles of prosecutors, defense attorneys, witnesses and jurors. 
The 20-week Project LEAD curriculum focuses on the legal and social consequences of juvenile crimes.  Facilitators model techniques for resolving conflict and resisting peer pressure.  Other lessons promote tolerance and respect for diversity. 
Last school year, 145 facilitators taught more than 2,100 fifth-graders in 70 classrooms at 42 public schools throughout Los Angeles County.  Since its inception in 1993, an estimated 30,000 students have been touched by Project LEAD.
Deputy district attorneys, investigators, paralegals, hearing officers, field deputies and law clerks are eligible to volunteer for the program.  The program is offered to public schools in Los Angeles County. 
District Attorney Jackie Lacey, a former facilitator for five years at Lorena Street Elementary School, recognized District Attorney staff who have served as role models through this program.
"Through Project LEAD, we have a unique opportunity to recruit future generations of prosecutors," said District Attorney Lacey.
Researchers have found that Project LEAD students complete the program with a better appreciation for the law, the importance of education and the benefits of making good choices.