June 8, 2021: POALAC Honors District Attorney Employees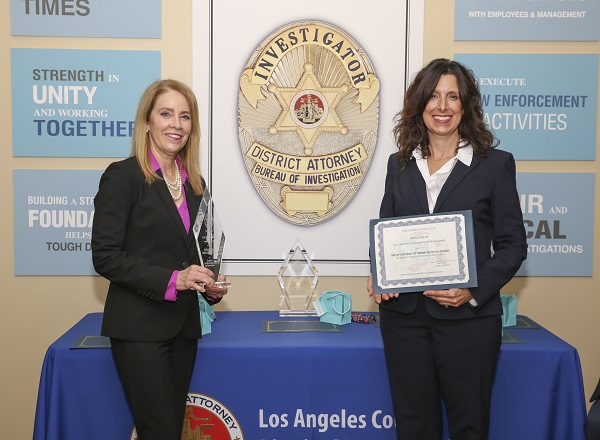 Congratulations to the deputy district attorneys, investigators and support staff members who were honored recently by the Peace Officers Association of Los Angeles County (POALAC).
The honorees were recognized for outstanding investigative work, untangling a multilayered fraud scheme, aiding in a cold case murder probe and organizing a training program designed to improve the safety of first responders and people living with mental illness.
Senior Investigator Steven Ramos was presented with POALAC's Centurion Award for Excellence in Investigations for his extraordinary resilience as he uncovered layers of criminal wrongdoing in a narcotics investigation while simultaneously leading a separate high-profile investigation of racehorse deaths at the Santa Anita Park.
Deputy District Attorney Shaun Gipson and Senior Investigators Mike Downs and Henry Valdez were honored with the Centurion Award for Excellence in Fraud Investigations. They worked with other agencies that investigated a man who ran drug and alcohol treatment centers and was engaged in one of the largest insurance fraud schemes in state history.
Deputy District Attorneys Marguerite Rizzo and Beth Silverman (pictured) received the Centurion Award for Excellence in Cold Case Investigations with Technical Support. They were recognized with a team of agencies that utilized investigative genetic genealogy to help identify a suspect who now faces murder charges in connection with a 1986 killing of a Burbank woman and a 1981 slaying of a woman found in Montclair.
Deputy District Attorney Alex Karkanen received the Centurion Award for Excellence in Task Force Investigations. Karkanen worked with the Taskforce for Regional Autotheft Prevention (TRAP) West Team in unraveling a high-end automobile theft scam. The perpetrators persuaded victims to purchase vehicles for a purported entertainment industry car rental company. Actually, the defendants sold the vehicles. The victims lost $4 million.
Deputy District Attorneys Jason Lustig and Simone Shay received the Centurion Award for Excellence in Innovation for a collaborative effort in Long Beach to reduce opioid and methamphetamine overdoses.
Staff members in LADA's Public Affairs Division were recognized with the Joe Ares Award for Excellence in Training for the Criminal Justice Institute's two-day "Mental Health Awareness: Crisis Intervention for First Responders" course. Public Affairs Division Chief Kerry Bigornia, Mental Health Training Coordinator Sandy Jo MacArthur, Senior Secretary V Rosa Flores Mejia and Senior Typist-Clerk Tykeisha Cuba were honored for organizing and providing comprehensive training to more than 2,000 first responders from more than 60 local, state and federal agencies.
LADA thanks the awardees for their dedication to serving the people of Los Angeles County.