June 17, 2015: Move to Hall of Justice Complete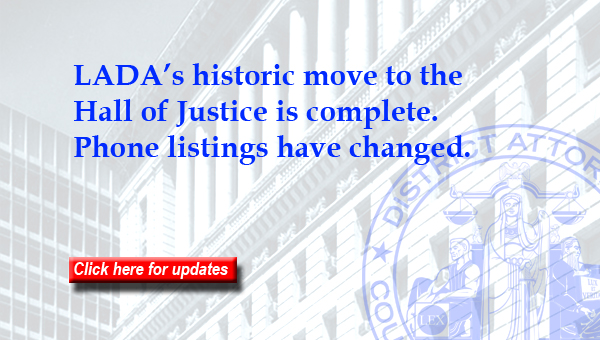 The biggest move in the history of the Los Angeles County District Attorney's Office is now complete.
Several Bureau of Fraud and Corruption Prosecutions divisions and Bureau of Specialized Prosecutions divisions were part of the move to the historic Hall of Justice that completed this week.
In total more than 700 employees have moved from LADA offices at the Foltz Criminal Justice Center, the Hall of Records and other locations to the Hall of Justice. The move took place in three phases and started on May 15.
While the main phone number for LADA headquarters, (213) 974-3512, remains the same, numerous phone listings and mailing addresses for LADA offices have changed. Please go to this website's Office Directory for the latest information.
The 90-year-old Hall of Justice is located in the Los Angeles Civic Center at 211 West Temple Street. The building was closed in 1994 after the Northridge earthquake. In 2011, the Board of Supervisors approved a $231 million restoration project.
The building served as LADA headquarters when it opened in 1926 until the early 1970s.
The restored Hall of Justice also serves as headquarters for the Los Angeles County Sheriff's Department.