June 1, 2015: Media Relations, Other Phone Listings Change in Hall of Justice Move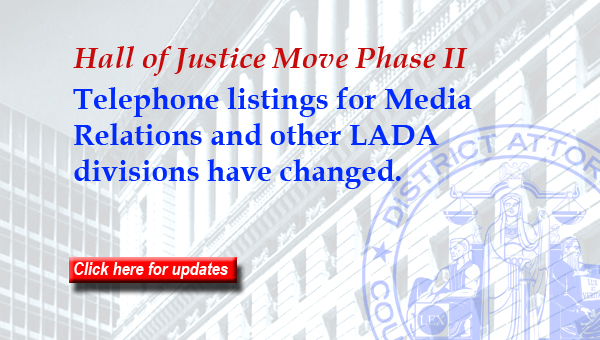 The second phase of the Los Angeles County District Attorney's Office move to the Hall of Justice is complete.
Most of the office's executive team, Media Relations Division and several specialized prosecution divisions are now in the historic building at 211 West Temple Street in the Civic Center area of downtown Los Angeles. The final phase of the move is set for mid-June.
Many LADA phone numbers and mailing addresses have changed. Please refer to this website's Office Directory pages for the latest contact and mailing information.
The office's general number, (213) 974-3512, will remain the same.
In total, more than 700 LADA employees are moving into the building that opened in 1926 and served as LADA's headquarters until the 1970s.
The building was closed in 1994 after the Northridge earthquake. In 2011, the Board of Supervisors approved a $231 million restoration project.
Updates will be posted on this website as additional phone numbers change.