December 21, 2017: LADA Volunteers Support Crime Victims During Holiday Giving Season
The pain and suffering caused by violent crime doesn't end with the court case for victims and their families.
The job doesn't end there either for volunteers from the Los Angeles County District Attorney's Office.
Dozens of investigators with the District Attorney's Bureau of Investigation delivered presents to 474 children from 190 families affected by crimes during the 33rd annual Holiday Giving Drive this month. It's the largest of several charitable events in which volunteers from the District Attorney's Office participated this season.
"The holidays can be an especially difficult time for those who have lost family members to crime or have been otherwise impacted," District Attorney Jackie Lacey said. "These kids have had a hard year, but we're here to show them that love prevails."
The Bureau of Victim Services organizes the program and purchases the presents with money donated to the District Attorney's Victim Assistance Fund. This year, the program spent $28,000 on gifts, which included toys, clothing and necessities.
The volunteers delivered the gifts to children throughout Los Angeles County as well as to families who had relocated to Orange, Ventura, San Bernardino and Riverside counties.
Another 50 children got a chance to do their holiday shopping personally through Heroes and Helpers, a Target Corp. grant-funded program.
These children, who also were victims of crimes, were each paired with a volunteer from the District Attorney's Office to help them spend $200 on gifts at a Target store in Pasadena. Other volunteers helped wrap the presents or did crafts with the youths. About 200 volunteers participated.
"We should give back to the community any way we can, and what better way than to give back to victims," said volunteer Michelle Carpenter, a paralegal in the Family Violence Division, who led 8-year-old RyanParys Akins on a shopping spree.
"When we go shopping, we don't get a lot of stuff we want to get. We get stuff for the house," said RyanParys' sister, 15-year-old Ebre'L Calcote. "I'm just excited to get my own stuff, just for me."
Staff from throughout the District Attorney's Office also stepped up again this month for the Salvation Army Compton Corps' Angel Tree toy drive.
Volunteers purchased about 70 bicycles and toys for 200 children, which is almost twice the number helped last year.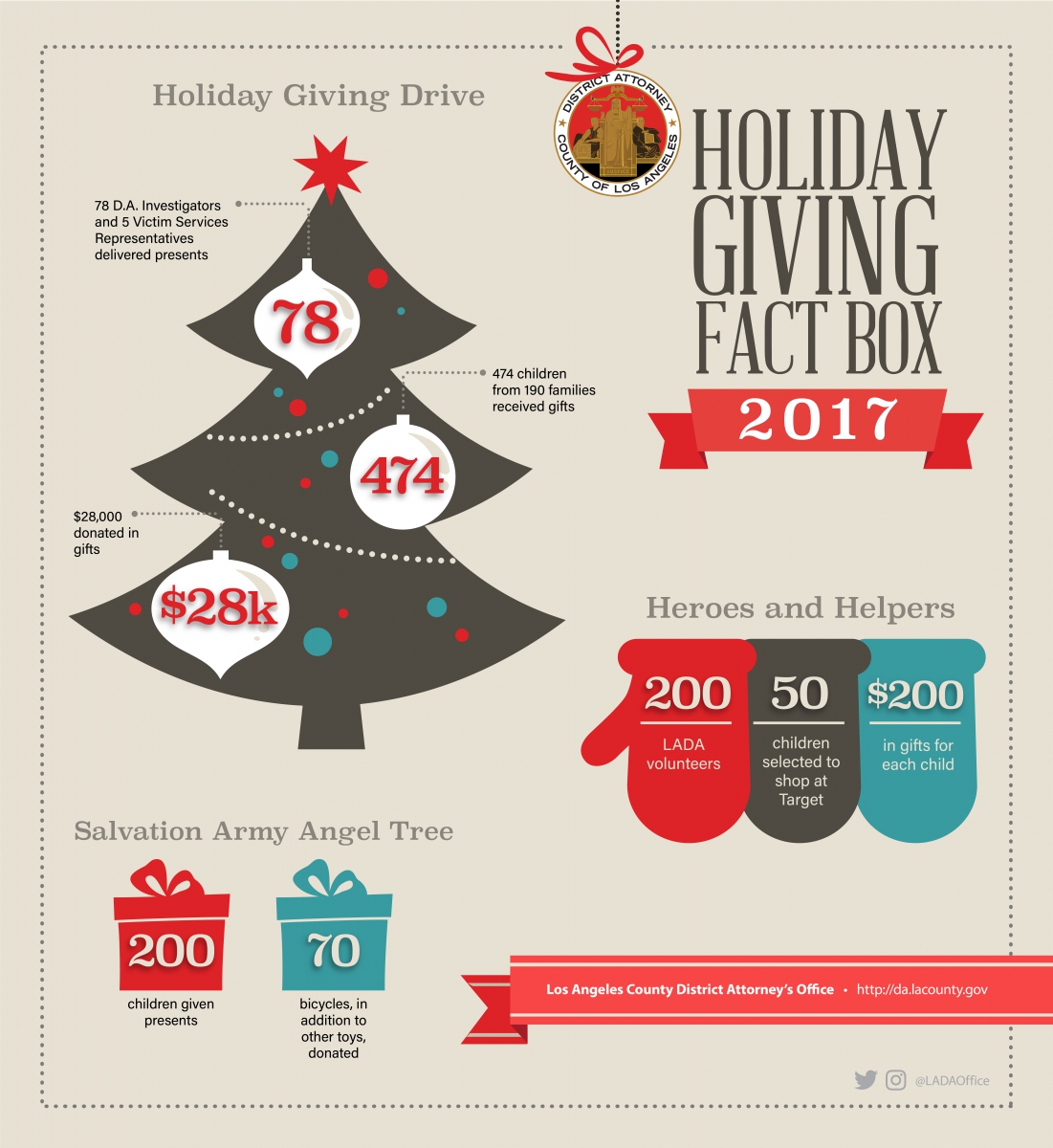 To donate to the District Attorney's Victim Assistance Fund, go to: www.calfund.org/district-attorneys-victim-assistance-fund/
See more photos of the holiday giving events on the District Attorney's Office Instagram page.