October 22, 2019: LADA Recognized for Assisting in Woolsey Fire Response, Mental Health Program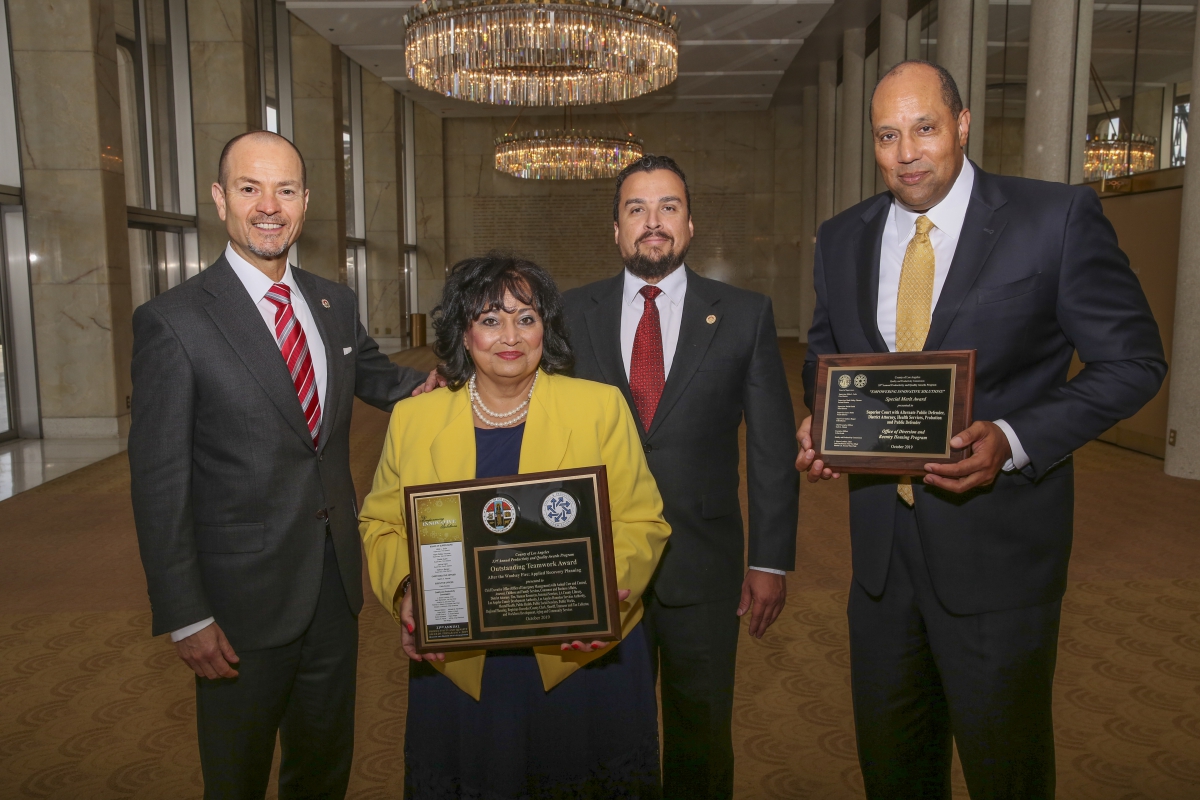 Chief Deputy District Attorney Joseph Esposito (left), Accounting Officer Gihan "Gigi" Armaneous, Public Information Officer Ricardo Santiago and Head Deputy Gilbert Wright attended the Productivity and Quality Awards Ceremony on Oct. 16.
LADA and other county agencies were honored by the Quality and Productivity Commission for their work in helping victims of the Woolsey Fire last year.
The agencies received the Outstanding Teamwork Award from the commission at its annual awards ceremony on Oct. 16.
The Woolsey Fire left thousands of residents in need of immediate assistance. Two LADA staff members were assigned to assistance centers in Agoura Hills and Malibu where workers aided more than 7,000 victims.
Ricardo Santiago, a public information officer with the Bureau of Communication's Media Relations Division, spent about a month at the assistance centers fielding media inquiries, preparing news releases and helping organize community outreach efforts.
Gihan "Gigi" Armaneous, an accounting officer with the Bureau of Administrative Services' Budget and Fiscal Services Division, was assigned for three months at the assistance centers. She performed various administrative duties, including developing and submitting weekly financial and cost accounting reports for management, which included employees' salary and benefits and services and supplies for fire damage.
In addition, the county coordinated with federal agencies to help victims register for programs such as rental assistance and repairs and replacement of homes.
LADA also received the commission's Special Merit Award for collaborative work on the Office of Diversion and Reentry's Housing Program.
The program aids individuals living with mental illness and/or substance abuse by removing them from jails and homelessness. The program works to provide rehabilitation by treating medical needs and reducing recidivism and jail overcrowding.