January 28, 2019: Envoys of Honor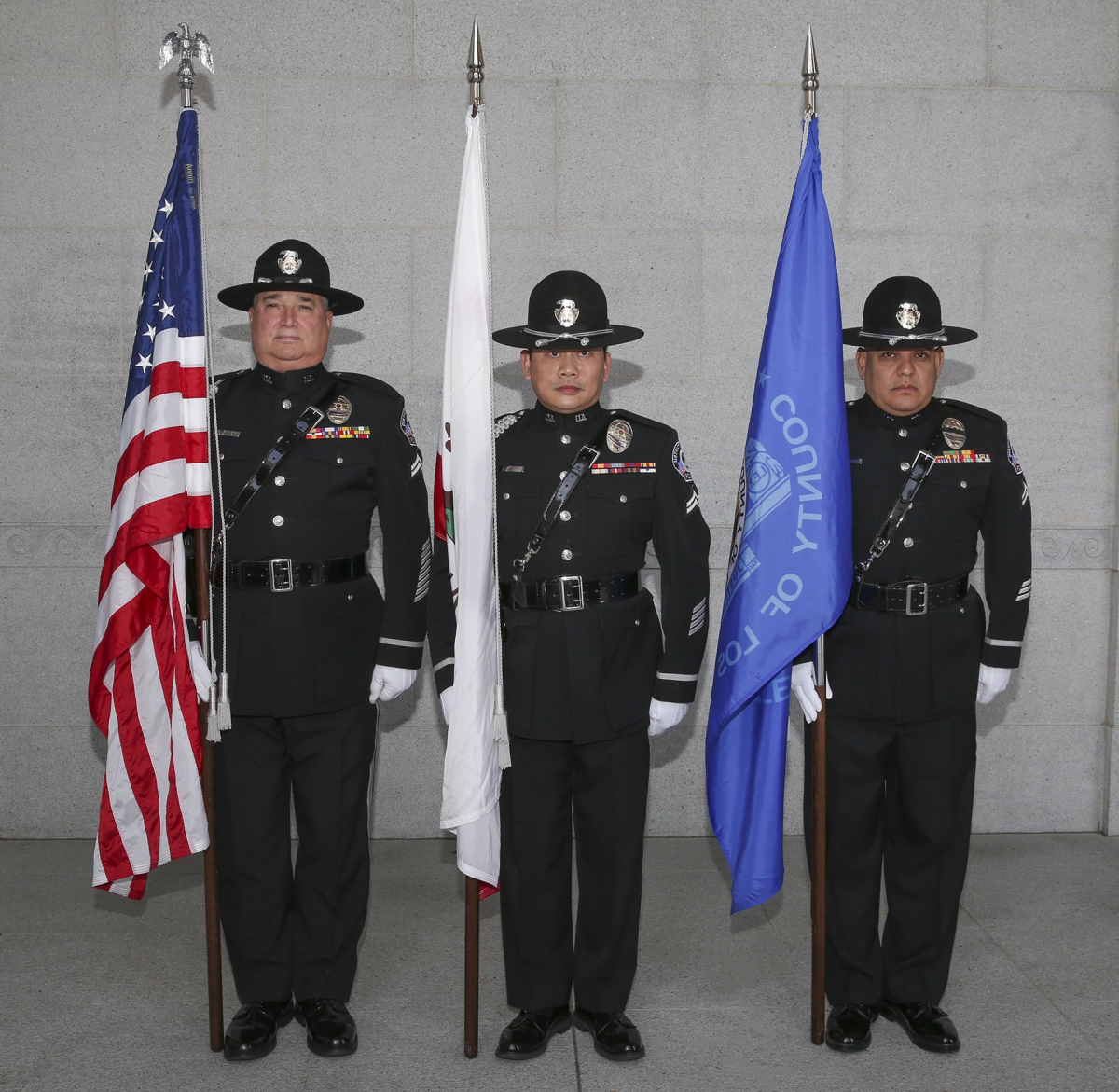 For more than five years, the District Attorney's Color Guard has served as office ambassadors at some of Southern California's most solemn events.
The 13-person contingent, consisting of members of the office's Bureau of Investigation, respectfully displays and escorts the nation's flag at funerals and memorials for fallen law enforcement officers and others. Their duties include standing watch over the casket, serving as pallbearers, flag folding and giving a 21-gun salute. The group also presents the flag at numerous District Attorney's Office ceremonies and other events.
It is the only such ensemble from a district attorney's office in the nation.
In 2018, members attended nine law enforcement funerals, including November ceremonies for Ventura County Sheriff's Sergeant Ron Helus, who died during a mass shooting at a Thousand Oaks nightclub, and Gardena Police Officer Toshio Hirai, who was killed in a motorcycle collision.
"When one of these public servants pays the ultimate sacrifice, it is only fitting to honor them with the dignity and respect they deserve," said Lt. Robert Maus, who has been with the Color Guard since its inception in 2013.
Members have represented the office at peace officer memorials in Los Angeles County, Sacramento and Washington, D.C. They also have appeared at Dodger Stadium, Angel Stadium, the Honda Center and the Baker-to-Vegas Challenge Relay Race.
The Color Guard helps foster a greater understanding of the important work performed by the office, Maus said.
"Being the only District Attorney's Color Guard in the nation, we receive a lot of inquiries from other law enforcement agencies when we attend these events," Maus said. "It opens up the dialogue, explaining what our office does and how big our agency is. Officers from around the world are amazed at the size of the Bureau of Investigation and the crimes we investigate."