October 28, 2015: Justice 'Embodied' in New Sculpture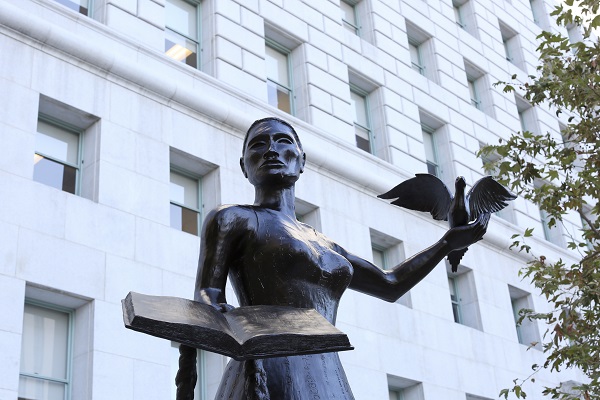 "Embodied," a sculpture by artist Alison Saar, has been installed on the grounds of the downtown Hall of Justice, headquarters for the District Attorney's Office.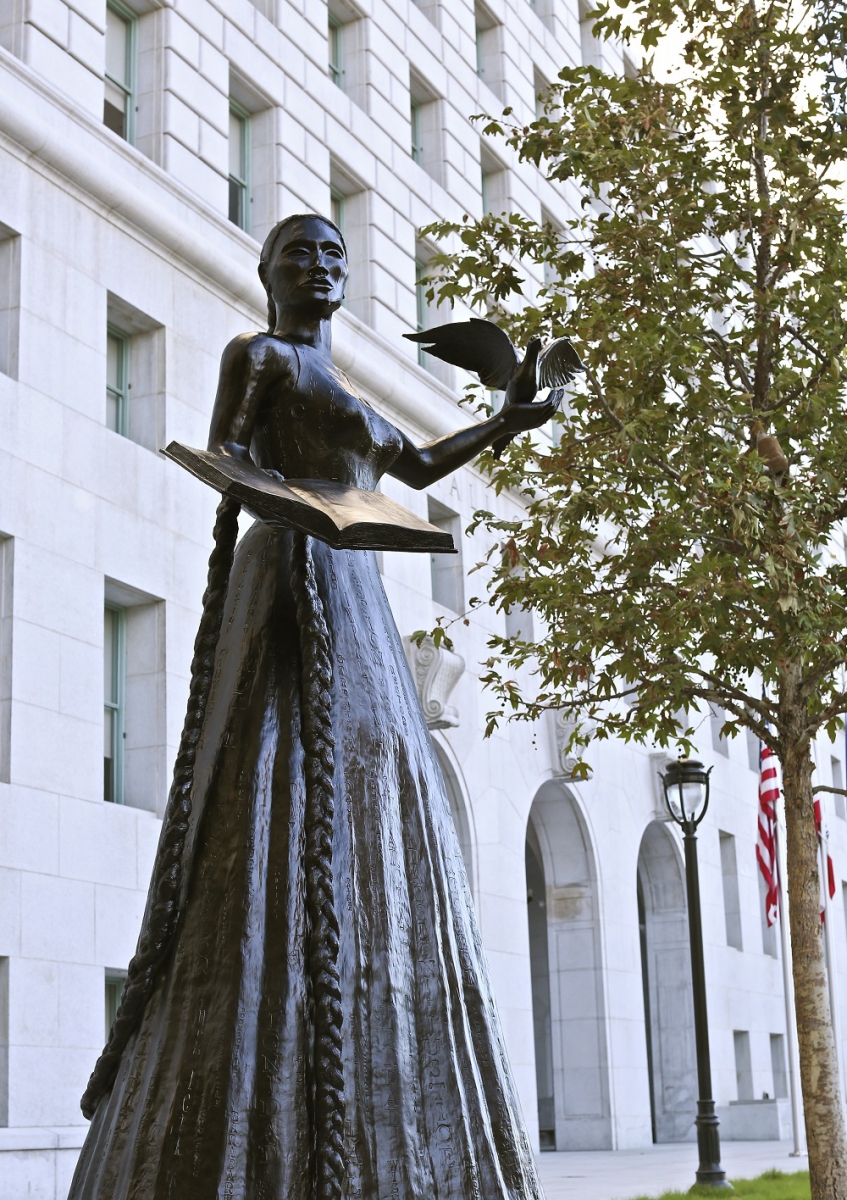 A new sculpture in bronze titled "Embodied" was installed on Oct. 24 at the Hall of Justice in downtown Los Angeles.
The figure, created by Los Angeles artist Alison Saar, exemplifies the spirit and values of justice represented in the roles of District Attorney's Office and the Sheriff's Department, the tenants of the recently renovated Hall of Justice.
"The installation of our new 'Lady of Justice' offers another opportunity to reaffirm LADA's mission to protect the community through the fair and ethical pursuit of justice and the safeguarding of crime victims' rights," District Attorney Jackie Lacey said.  "This iconic symbol will remind visitors that the Hall of Justice is a place where prosecutors are dedicated to seeking justice for all."
"Embodied" stands 12 feet tall and depicts a woman holding a book of law in her right hand and a dove taking flight from her raised left hand.  Saar has said the contrast shows the woman weighing and balancing the book of law and equating it to freedom and peace.
Imprinted on her dress are more than 200 words of "Justice" in more than a dozen languages collected from conversations Saar had with staff members of LADA, the Sheriff's Department and others. Chinese, Japanese, Korean, Spanish, Tagalog and Vietnamese are among the languages represented.
The project was mandated by the Los Angeles County Civic Art Policy that was adopted by the Board of Supervisors in 2004. Under that mandate, 1 percent of design and construction costs on new county capital projects is allocated to a Civic Art Special Fund and managed by the Los Angeles County Arts Commission.