October 7, 2015: District Attorney Jackie Lacey Presents Awards for Courageous Deeds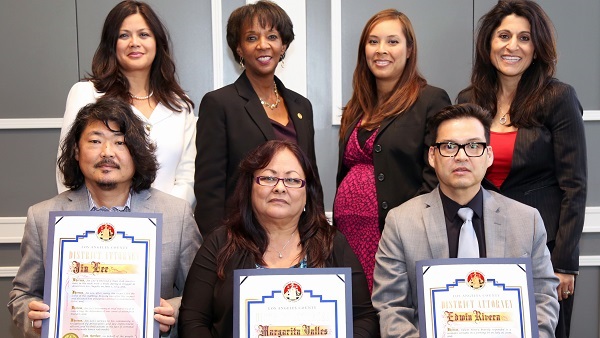 Courageous Citizen Award honorees (from lower left) Jin Lee, Margarita Valles and Edwin Rivera were recognized by Deputy District Attorney Joy Sumabat-Graff (top, left), District Attorney Jackie Lacey and Deputy District Attorneys Jacqueline Mac and Tannaz Mokayef. 
District Attorney Jackie Lacey presented Courageous Citizen Awards recently to three men and a woman who acted fearlessly and at considerable personal risk to help victims of crime.
"I commend each of you for coming to the aid of strangers in their darkest hours," District Attorney Lacey said at an Oct. 2 ceremony in downtown Los Angeles. "Justice prevailed for these victims of violent crimes because you stood up for people who were vulnerable and gave a voice to victims who could not speak for themselves."
Edwin Rivera, 49, of Palmdale, heard a woman screaming in a Century City parking garage on July 28, 2008, and saw a man in a hooded sweatshirt fleeing. Rivera comforted the dying woman until paramedics arrived. Authorities later arrested the victim's estranged husband and three others in the woman's murder. Over the next several years, Rivera remained a powerful eyewitness for the prosecution. He testified multiple times and was instrumental in securing convictions for the four defendants. Watch the video.
Jin Lee, 45, of Los Angeles, witnessed one man stab another in the neck on June 5, 2014, during an argument and scuffle on a downtown Los Angeles street. The assailant fled, and Lee ran after the suspect, even though he knew the man was armed with a knife. Lee detained the attacker until law enforcement arrived. At trial, there was conflicting evidence about who had been the aggressor in the conflict that led to the stabbing. Ultimately, it was Lee's eyewitness testimony that helped prosecutors secure a conviction. Watch the video.
Margarita Valles, 57, and Eduardo Valles, 52, both of Los Angeles, witnessed a car strike and kill a 101-year-old man who was walking in a crosswalk in Boyle Heights on Oct. 1, 2014. The motorist drove away.  Mr. and Mrs. Valles followed the suspect's car in their vehicle, caught up to the driver and blocked his vehicle until police arrived. Their brave actions ultimately led to the capture and arrest of the culprit. Watch to the video.