August 21, 2019: Deputy District Attorneys Help Victim Who Lost Service Dog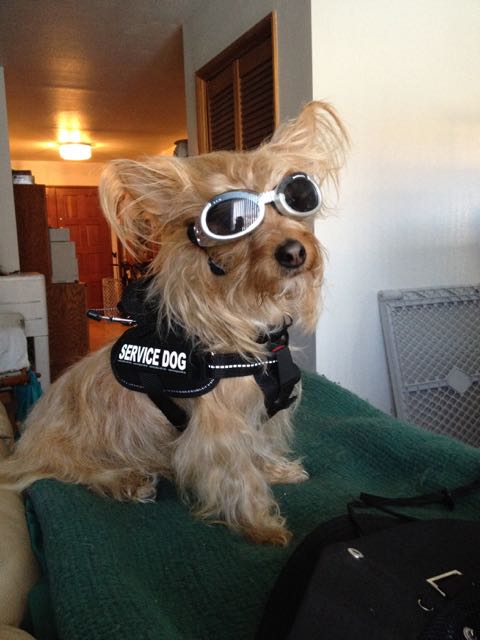 Deputy district attorneys in the Antelope Valley took action when they learned the beloved dog of a woman with special needs had been mauled to death by another dog.
Jo Bradfield was with her 11-pound, 6-year-old silky terrier, Sharkey, pictured left, in 2017, when she went to a Lancaster store. Two of the store owner's dogs lunged at the service dog, and one mauled Sharkey to death. The dog owner was issued a citation and ordered to appear in court.
The prosecutors had nothing to do with the original case because it was an infraction, a violation of law punishable by a fine that is filed directly with the court.
But when the judge refused to set a restitution hearing in the case, Head Deputy District Attorney Robert Sherwood came to the rescue.
He agreed with Bradfield that she should not have to file a civil lawsuit to seek compensation for the death of her service dog, and he asked the office's appellate attorneys to help out.
Deputy District Attorney Cassandra Thorp filed an appeal and argued that Bradfield, like any other victim of crime in California, has a constitutional right to restitution. It did not matter, she said, if the crime against her is an infraction.
The appellate court agreed on May 30. Because of Sherwood and Thorp, Bradfield will have the opportunity later this year to seek compensation at a restitution hearing.
For Bradfield, Sharkey was more than a typical service dog.
Bradfield lives with intermittent episodes of severe disorientation in which she becomes unaware of her surroundings. The dog sensed these episodes occurring even if humans did not. Sharkey would guide Bradfield to a safe location or lick her face until her awareness returned.
Replacing such a specialized service animal is expected to cost tens of thousands of dollars.