October 16, 2019: Deputy District Attorney Mrakich Receives Prosecutor of the Year Award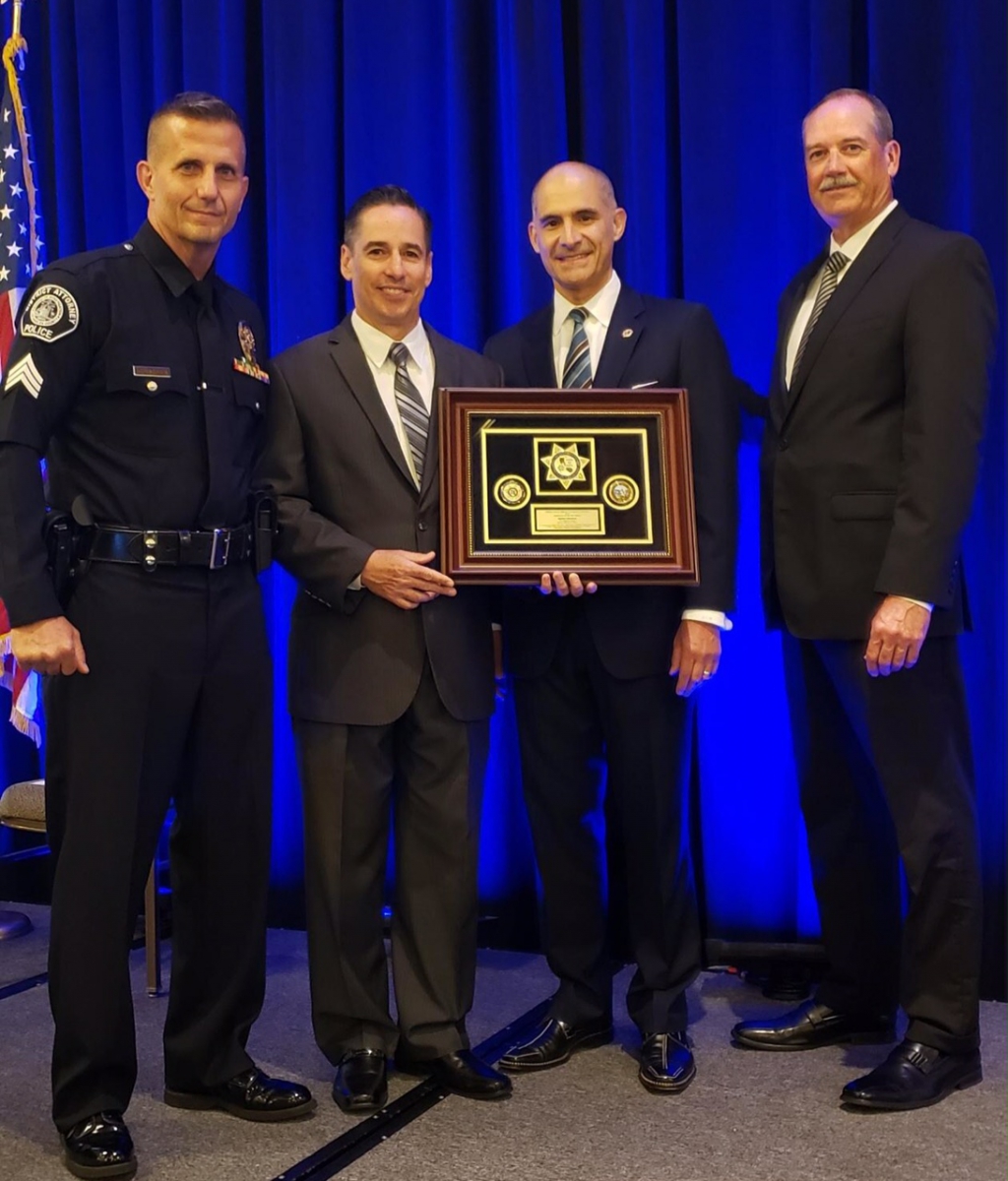 Deputy District Attorney Stefan Mrakich (second from right) is congratulated by
Sergeant Britton Schaefer, Captain Richard Aloise and Chief John Neu.
For his dynamic leadership and ability to develop distinguished prosecution teams, Deputy District Attorney Stefan Mrakich recently earned the California District Attorney Investigators' Association's Prosecutor of the Year award.
"I'm very humbled and deeply honored to receive this award," Mrakich said. "It's an honor to serve at the Los Angeles County District Attorney's Office and I'm grateful every day to have this job."
The award, which he received at a Sept. 5 ceremony, is presented to a prosecutor who has exhibited an outstanding job performance and integrity while maintaining a positive working relationship with investigators from their office.
Mrakich was nominated by Sergeant Britton Schaefer for his dedication to bringing justice to crime victims and the ability to motivate others and foster prominent team prosecutions.
"He leads from the front and sets the tone through hard work, team building and always leverages the talents of his investigators," Schaefer said. "He inspires us all to work harder to bring the defendants to justice."
Mrakich works closely with the Bureau of Investigation. Schaefer attributes the investigators' growth and motivation to do their best to Mrakich's professionalism, vast knowledge and unwavering commitment to his career, peers and crime victims.
Notably, Mrakich is prosecuting a public corruption case involving the former mayor of Palmdale and two others. The defendants are accused of conspiracy to embezzle and misappropriate public funds by using various shell companies, resulting in a loss of more than $3 million.
Mrakich joined the office in November 1997 and worked in the Family Support Division litigating complex child support cases. He worked in the Pomona Branch Office and Hardcore Gang Division before transferring to the Public Integrity Division in June 2017. Mrakich received his undergraduate degree from California State University, Los Angeles and attended the University of California, Davis School of Law.