March 11, 2019: A Day in the Life: Parole Division Prosecutor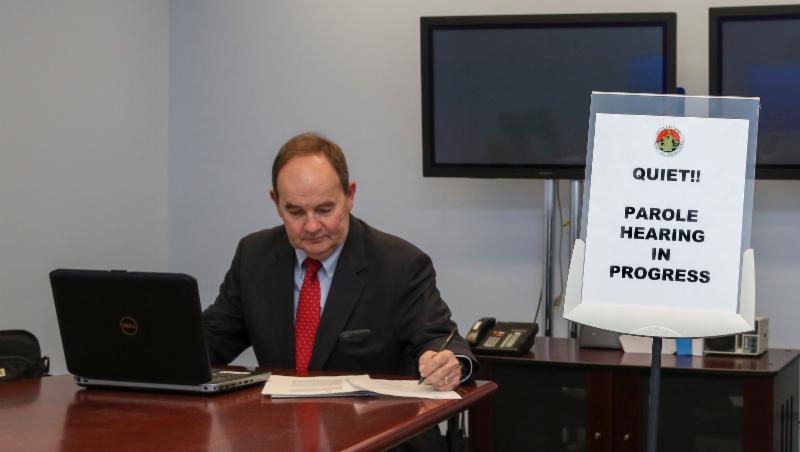 David Dahle has a view of the justice system that few prosecutors see: a view from behind prison walls.
He is one of 14 part-time deputy district attorneys, all of them retirees, and four full-time deputy district attorneys in the office's Parole Division. They participate in roughly 2,200 parole hearings a year. More than 1,400 are conducted in California prisons and the remainder through video-conferencing.
The job requires that Dahle catch puddle-jumper flights or take long drives (sometimes both) to get to places like Blythe, Wasco, Avenal, Crescent City, Folsom and other California prison towns.
Behind electrified fences and heavy doors, Dahle works in concrete-walled rooms with members of the California Parole Board, opposing counsel and inmates who are eager to get out.
He needs to pack a lunch and be ready to put in long hours. Most of all, he needs to be prepared.
Before he makes that trip, Dahle spends hours studying case files and prison records of potential parolees. Preparation and knowledge of the facts of each case are critical to his work.
If the prisoner speaks to the Parole Board panel, Dahle needs to be ready to make sure what is said is consistent with case records and past statements. It is Dahle's job to note if the inmate poses an unreasonable risk to reoffend if released.
"The prisoner wants to convince the board he is going to be a model citizen," Dahle said. "The prosecutor's responsibility is to make sure the panel of the Parole Board weighs and considers all the information and background in making a decision whether to release the inmate."
He makes two trips to prisons a month, where he can be stationed for up to three days and handle up to six hearings. Each hearing can last for several hours.
"It starts early in the morning, and you're there until it is over," Dahle said, noting the accommodations behind bars are sparse. "Being there gives you a sense of what prison life is like."