July 10, 2019: D.A. Lacey Visits Project LEAD Students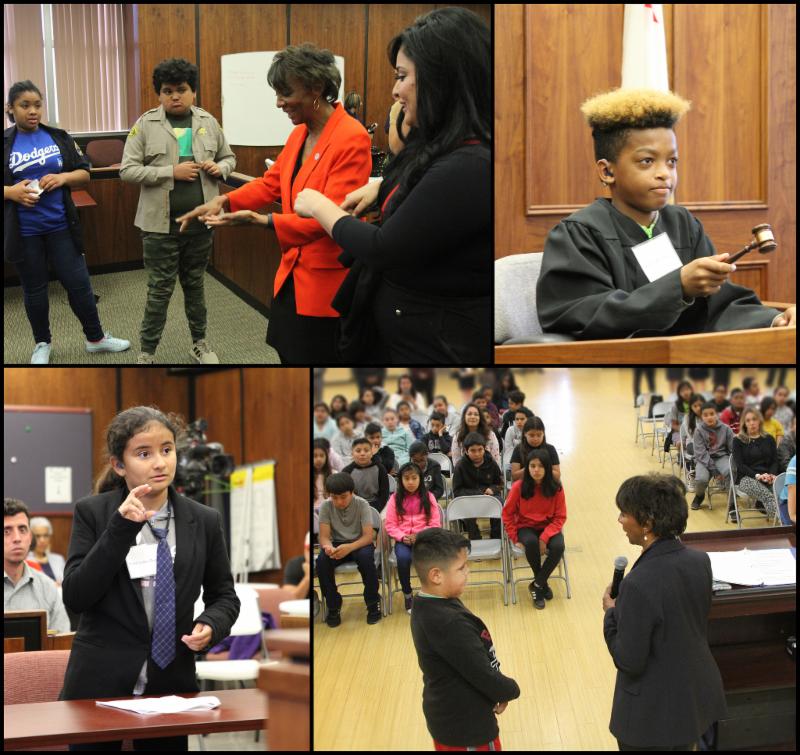 The fifth-graders at Telfair Elementary School ended their school year with a visit from District Attorney Jackie Lacey.
District Attorney Lacey personally recruited seven deputy district attorneys to work with students at the Pacoima school after reading a 2018 series by Los Angeles Times columnist Steve Lopez. More than 20 percent of the school's 652 students identify as homeless.
"If you looked at me as a shy, skinny fifth-grader, you would have never imagined I would be an elected district attorney of the largest prosecutor's office in the nation," she told the assembly of almost 100 graduates of Project LEAD, the office's law-related education program. "I can look at your faces and tell you all are going places."
A Los Angeles Daily News story on the visit may be read by clicking here .
District Attorney Lacey also visited the mock trial performed using American Sign Language by students with hearing impairment from the Marlton School in Baldwin Hills. Deputy District Attorney Alice Kurs taught the 20-week curriculum using sign language.
Click here to watch an ABC7 report on the Marlton students' mock trial.
Both schools were part of another record-breaking year for Project LEAD. This school year, 275 volunteers taught about 3,000 students in 98 classrooms at 55 Los Angeles County schools.
"Project LEAD makes a difference in the lives of students and in their communities," said District Attorney Lacey, who taught the curriculum for five years at Lorena Street Elementary School in Boyle Heights.
The Project LEAD curriculum focuses on the social and legal consequences of juvenile crimes, such as truancy, illicit drug use, shoplifting and graffiti. It also teaches students techniques for resolving conflicts and resisting peer pressure and promotes tolerance and respect for diversity.