October 21, 2015: Cyber Investigation Response Team Honored by Quality and Productivity Commission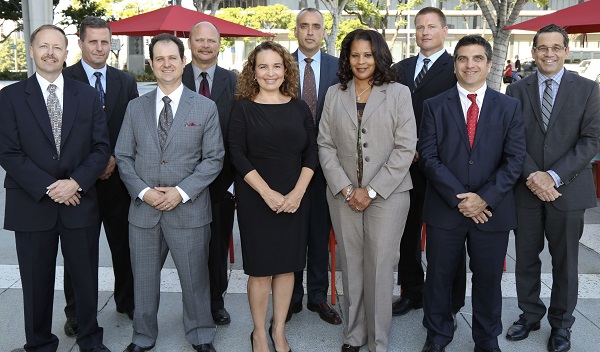 The District Attorney's Office Cyber Investigation Response Team was honored by the county's Quality and Productivity Commission.
The District Attorney's Cyber Investigation Response Team (DA-CIRT) received the Creative Application of Technology Award from the county's Quality and Productivity Commission for its efforts to strengthen the county's defense of its computer network and digital information.
The team responds immediately when computer systems are attacked or a data breach is suspected, working closely with the Countywide Computer Emergency Response Team (CCERT). DA-CIRT members focus on preserving evidence, identifying who is responsible for the attack and bringing them to justice.
"I am extremely proud our team was recognized by the Quality and Productivity Commission," District Attorney Jackie Lacey said. "They are a key part of a collaborative effort that helps us prosecute cybercriminals and protect sensitive records."
The team provides emergency services in response to security incidents and alerts and provides ongoing services to strengthen cyber-defenses.
Since it began in 2013, DA-CIRT has responded to more than 80 incidents involving 24 county departments and more than 460,000 exposed personal records.
The team consists of Deputy District Attorney Donn Hoffman, Sergeant Justin Feffer and Senior Investigators David Babcock, Clint Dragoo, Britton Shaefer and Larry Van Daele. All have extensive training and experience in cybercrime investigation and prosecution.
DA-CIRT has spearheaded successful prosecutions of five cases and the filing of felony charges in several pending cases. Criminal hackers have been ordered to pay more than $3.9 million in state restitution and $2.6 million in federal restitution in connection with DA-CIRT cases.
The Quality and Productivity Commission annually honors projects by county departments that improve, redesign or streamline county services to better serve residents. The ceremony was conducted Oct. 21 at the Dorothy Chandler Pavilion.